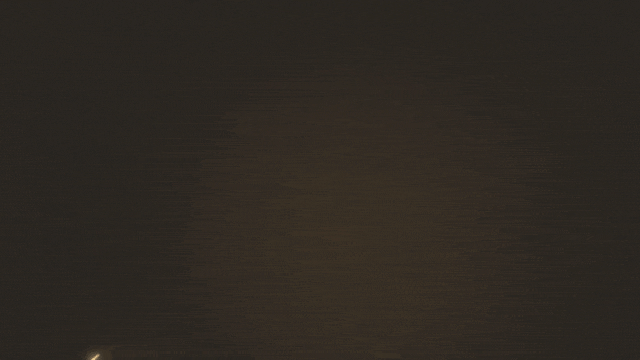 The holiday season is a time of joy, celebration, and gift-giving. It's also a perfect opportunity for businesses to boost their brand and connect with their audience on a deeper level. As the holidays slowly creep around the corner, everyone is gradually becoming surrounded by promotional Christmas gifts and ornaments for the festive season.
The act of giving gifts can have a powerful impact on brand promotion. It creates lasting impressions and fosters loyalty among customers and business partners. With approximately 82 more days to go on Santa's clock, in this Christmas blog special, let's take a look at some of the gift ideas we have cherry-picked to suit different target audiences. Learn how you can customise these gifts for maximum impact during your upcoming Christmas campaigns. All in our Festive Gift Guide!
Customising Your Promotional Gifts for Maximum Impact
When it comes to gift-giving for brand promotion, customisation is key. By personalising your gifts, you can make a lasting impression on the recipients and ensure that your brand is at the forefront of their minds. There are numerous ways to customise your gifts, depending on your budget and the preferences of your target audience.
One effective way to customise your gifts is by adding your company's logo or branding elements. This can be done through custom packaging, such as branded gift boxes or bags. You can also consider including branded merchandise — e.g. some of the familiar day-to-day items ranging from dinnerware in the kitchen to decorative items in the living hall — as part of your gift package. These small gestures not only add a personal touch but also serve as a constant reminder of your brand.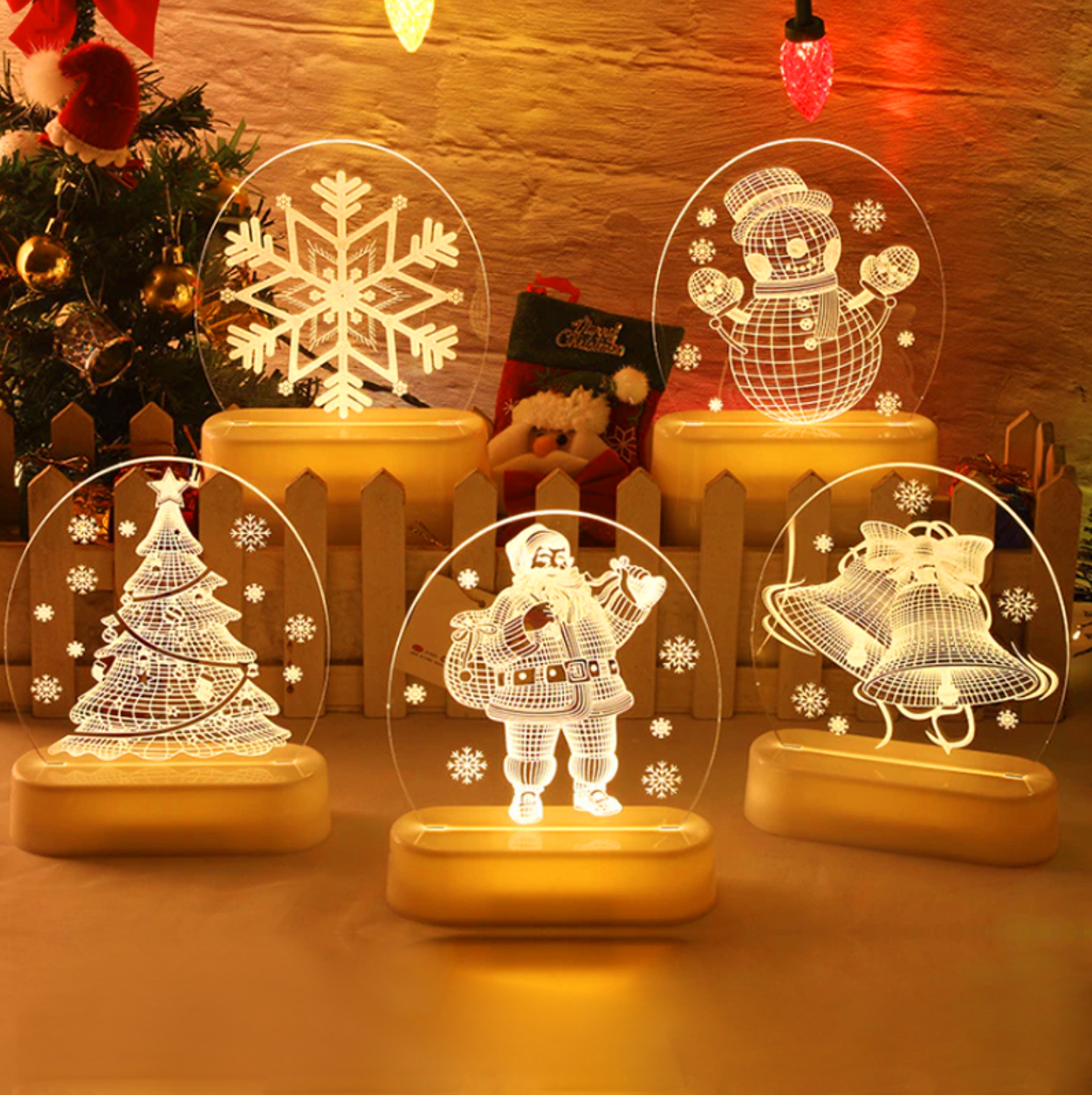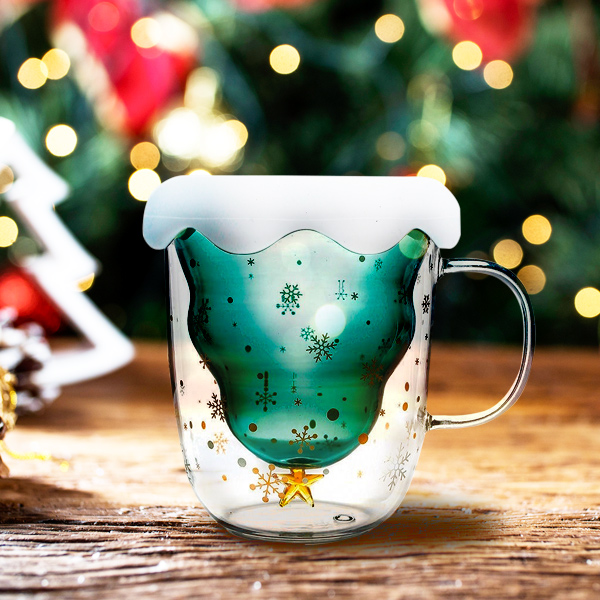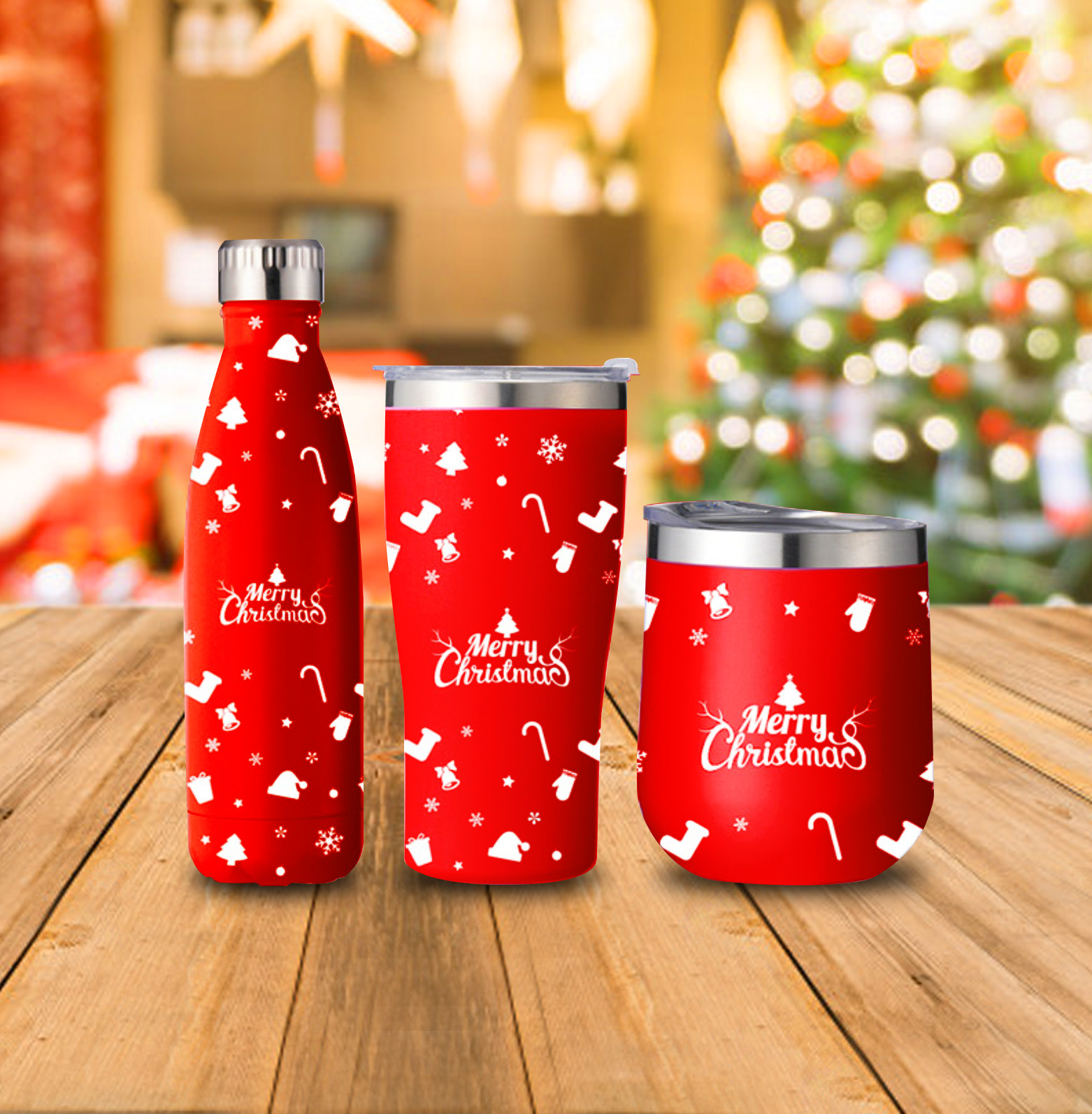 Another way to customise your gifts is by tailoring them to the individual preferences of your recipients. Take the time to research and understand the interests and hobbies of your target audience. For example, if you are targeting fitness enthusiasts, you can consider gifting them high-quality workout gear or fitness trackers. By showing that you have taken the time to understand their interests, you not only create a memorable experience but also strengthen the bond between your brand and the recipient.
When customising your gifts, it's important to strike a balance between personalisation and practicality. While it's great to add personal touches, do take into consideration the gift's functionality and relevance to the recipient. Nothing compares to something that offers a high brand recall through a strong association with value and utility, further enhancing your brand's reputation.
Adding Magic and Sparkle to Your Business With a Refreshing Festive Gift Guide
Finding the perfect gift for your clients, employees, and partners can be a challenging task. That's why we are here to help your brand ease into the festive season. Here are our "12 days of Christmas joy" to engage your audience during the holidays, boost sales, and branding perks to increase brand awareness.
1. Christmas Ceramic Dessert Plates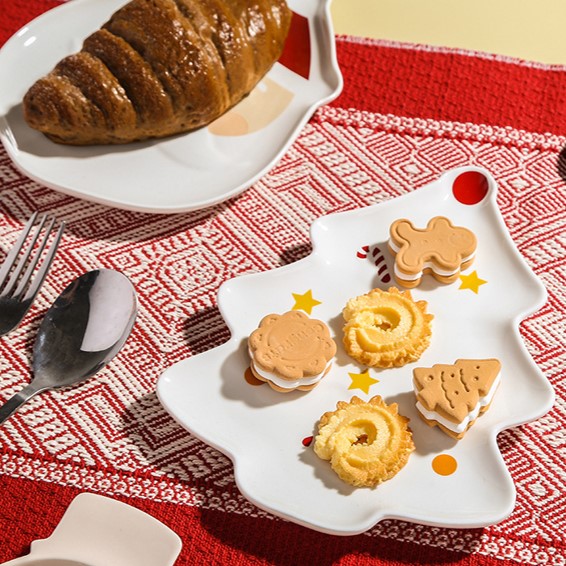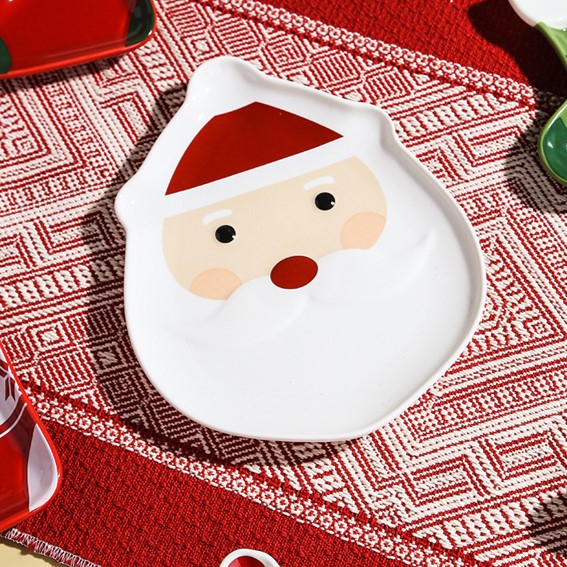 A simple, yet elegant platter to serve your favourite Christmas delicacies when you have your guests over during the family parties. These ceramic serving dishes not only enliven your dining experience, they are highly durable, perfect for any occasion. Image credit: DTC World
Why we like it: It's all about family gatherings and food during the festive season. A delightful choice for marketers seeking to brighten up their Christmas promotional campaigns, what's more befitting than a Santa-inspired or Christmas tree-themed delectable dinnerware?
These ceramic dessert plates are durable, and elegant — making them an apt choice for any occasion and setting. The Christmas motifs brilliantly capture the essence of the holiday spirit, keeping your brand close to home, for sure! Ample space to incorporate personalised touches with your brand logo or a festive message — and voila, you've got yourself heartwarming promotional souvenirs that truly evoke emotions and share nostalgic memories.
Ideal for: promotional GWP giveaways, redemption campaigns, employee swag
2. Christmas Dining Set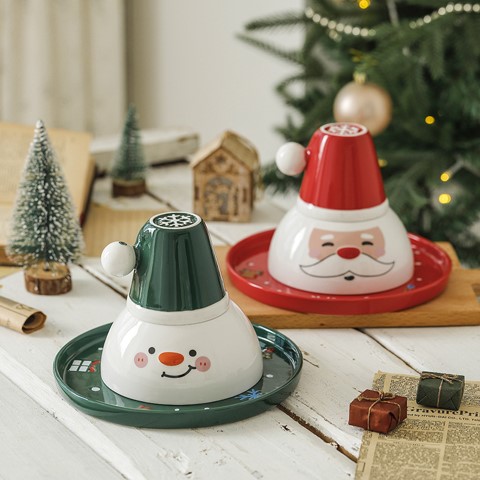 A stackable Santa Claus-themed dinnerware that features a unique, and very practical design structure and purpose — you can customise the designs on the huge branding space to inject more relevance to your specific campaigns. Image credit: DTC World
Why we like it: From design to functionality, we simply adore this 3-in-1 dining set. A stackable Santa Claus-themed dinnerware, comprising a plate, bowl, and cup — it is a delightful promotional gift that will definitely put a smile on your customer's face.
Always offering a fun reason to use this dining set for family dinners, we believe this delectable dinnerware will certainly be an engaging topic throughout those dinner chats. Now that's an impactful way to boost your brand's visibility that will last the entire Christmas! (And you simply have to agree just how adorable this dinner set is!)
Ideal for: promotional GWP giveaways, redemption campaigns, limited-edition online campaigns
3. Premium Glass Plates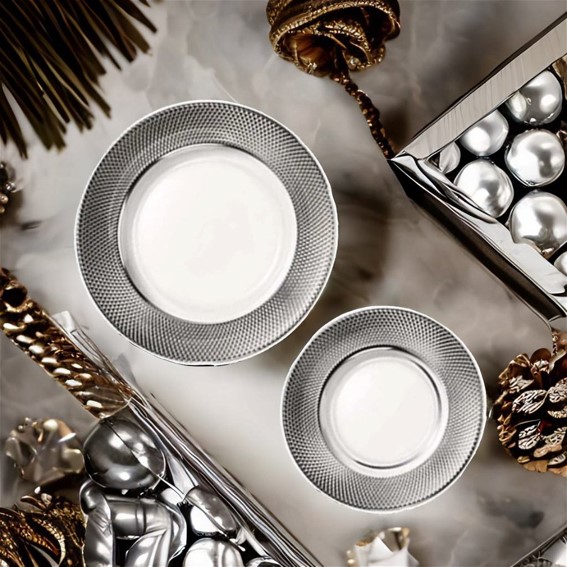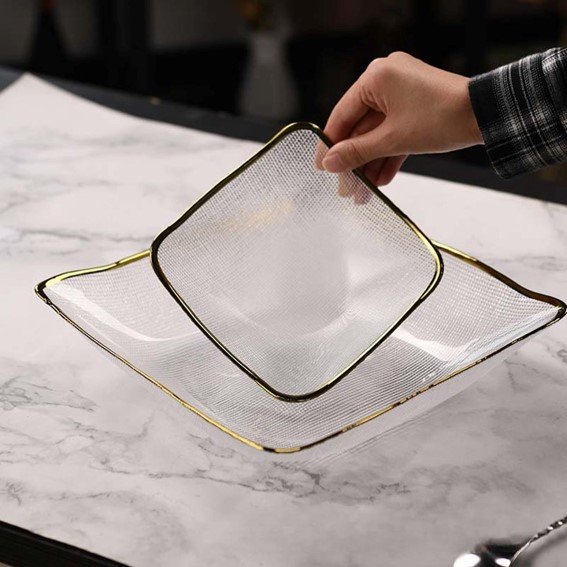 (L–R) A clean design that adds refinement to any dining table setup, these Premium Round Glass Plates (available in different sizes) and Premium Square Glass Plates would surely elevate your guests' dining experience. Gorgeous speckled sets that are the perfect representation of your brand message: quality and excellence. Made from durable glass material, they are out to impress your customers as the ultimate dining companion they will appreciate for a long time. Image credit: DTC World
Why we like it: If it's luxury dinnerware for special occasions that you're after, look no further. We're a firm believer that the right dinnerware collection can make all the difference when it comes to plating up. And since it's for the festive season, all the more reason for you to bring out nothing but the b.e.s.t!
For something that's going to work for all occasions, a minimalistic dinner set will never fail you. And the words you're looking for are sleek, simple and timeless.
Ideal for: promotional GWP giveaways, redemption campaigns, limited-edition online campaigns, exclusive corporate gifts
4. Christmas Tree Snack Tray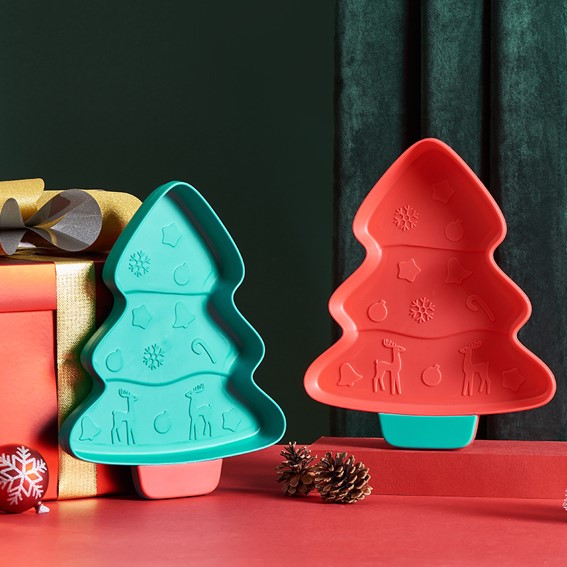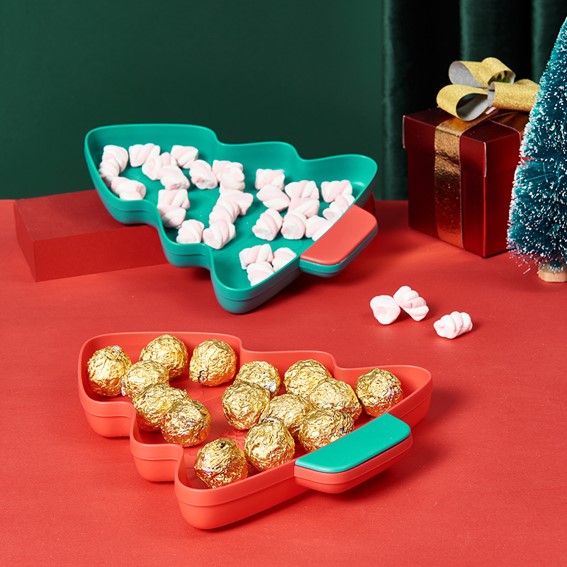 This Christmas Tree Snack Tray (available in different colours) is for those who wish to add a little more fun to the table setting. Perfect choice to serve chocolates and candies, even adults can't resist the 'sweet' temptation. Design motifs are easily customisable, where branding messages can effortlessly be incorporated to complement your campaigns. And if you're looking for something more artistically refined, we thought you might love the Multipurpose Serving Tray Set, which comes in an assortment of colours and layouts. Image credit: DTC World
5. Santa Mug with Spoon Set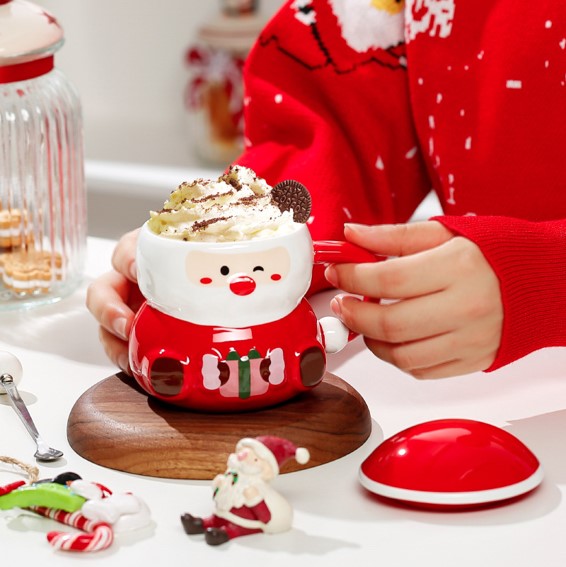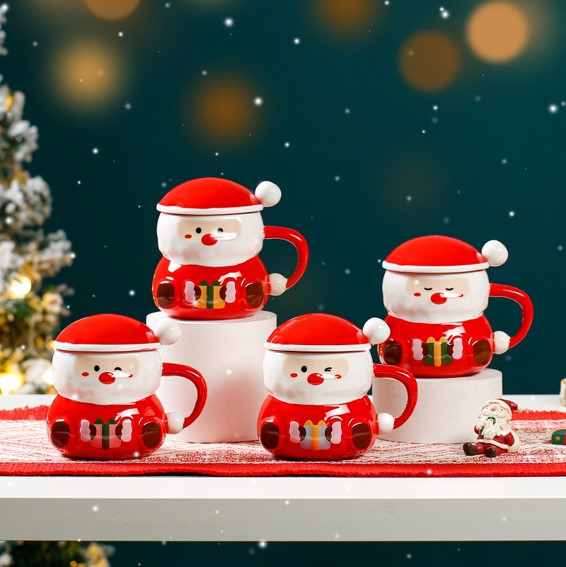 Perfect for tea or coffee, or heartwarming pumpkin soup, maybe — this ceramic Santa Mug with Spoon Set is definitely a head-turner at your next get-together, dinner, or corporate event. Image credit: DTC World
Why we like it: The vibrant colours and festive motifs on this Santa Mug and Spoon Set create an eye-catching, cheerful aesthetic that beautifully (if not adorably) encapsulates the spirit of the festival!
Make a joyful impact with your promotional gifts by adding your brand logo or greeting messages. From the lid to the mug and spoon, there are endless possibilities to be creative with personalised touches that will surely keep you at the top of mind among your customers this holiday season!
Ideal for: promotional GWP giveaways, redemption campaigns, limited-edition online contests or campaigns
6. Festive Mosaic Coaster DIY Craft Set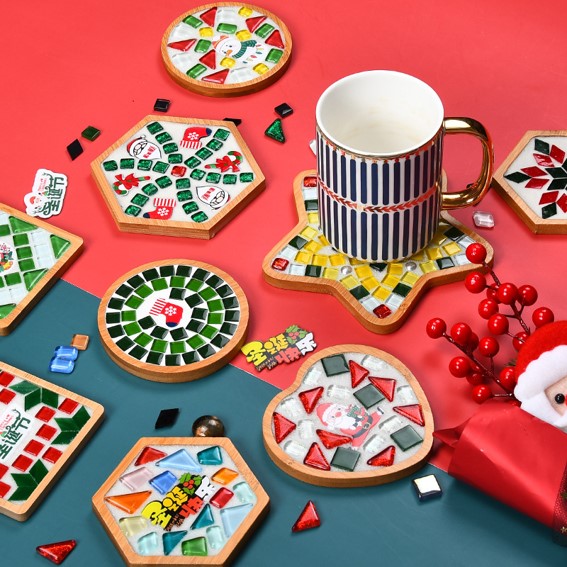 Explore your creative side with this DIY festive mosaic coaster set! An awesome activity to allow bonding time between adults and the little ones, who says Christmas can only have a card-making activity? Image credit: DTC World
Why we like it: The creativity and artistic elements that come together, while ushering in the festivity through a joyful vibrance in those mosaic tiles. With a variety of sizes and shapes, on top of the bright-coloured mini tiles, you can be certain these attractive coasters are definitely one of a kind!
A highly desirable and engaging promotional gift idea you can reward your loyal patrons, these festive-themed mosaic coasters inject the significance behind the holiday seasons: the precious moments spent with family. A meaningful gift idea worth exploring by any brand.
Ideal for: promotional GWP giveaways, redemption campaigns, limited-edition online contest giveaways, corporate gifts, employee gifts
7. Customised Christmas Tote Bag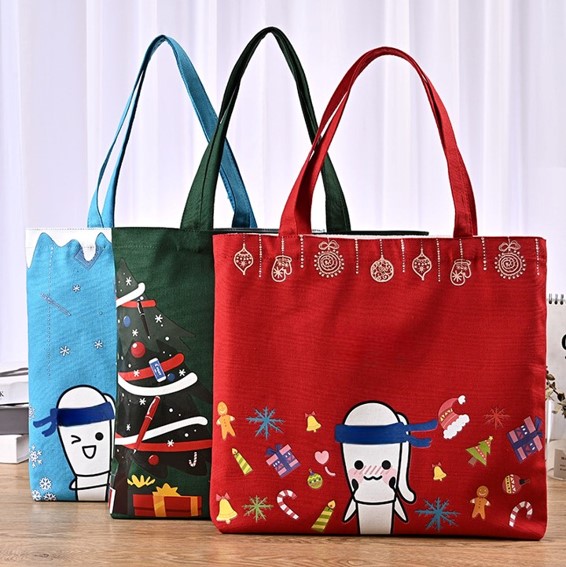 Who says no to a bag? A brilliant walking billboard for any brand, ring in the festive cheers with these customised functional totes, decorated with Xmas motifs and colours. Image credit: DTC World
Why we like it: Having eye-catching designs on top of durable materials for your promotional shopping totes is a sure-win. Your customers would fall in love with attractive and trendy shopping totes like this customised tote. Not only do they make a loud fashion statement, they are spacious and sturdy, too. Multifunctional and perfect for any occasion, they would surely amplify your campaigns and boost those sales numbers!
Ideal for: promotional GWP giveaways, redemption campaigns, limited-edition online contest giveaways, employee swag
8. Santa Pop-It Sling Pouch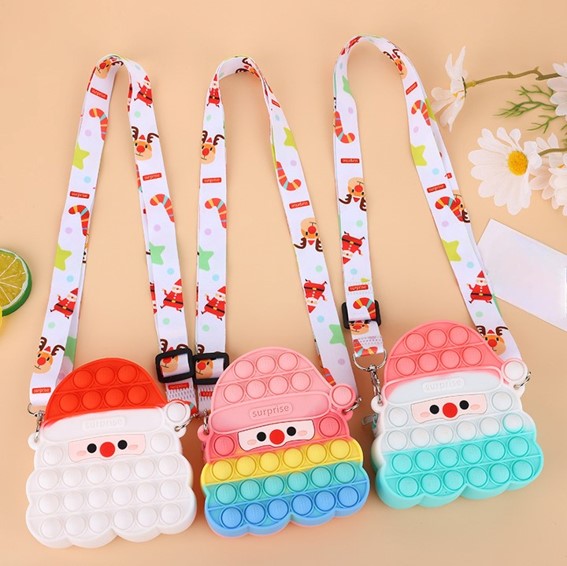 Image credit: DTC World
Why we like it: Our next Christmas pick is a bright-coloured pop-it pouch that gives you just as much of the festive surprises you'll need! The Santa Pop-It Sling Pouch, crafted from fun, durable silicone, is a fantastic promotional gift that will appeal to children and their parents alike. A stylish accessory; it's also an engaging sensory fidget toy, designed to keep kids entertained and provide stress relief. Oh, not forgetting its storage space allows kids to toss in their go-to toys, snacks, and other little treasures. You would want to check this one out!
Ideal for: promotional GWP giveaways, redemption campaigns, online campaigns (suitable for both kids and adults)
9. Promotional Christmas Keyrings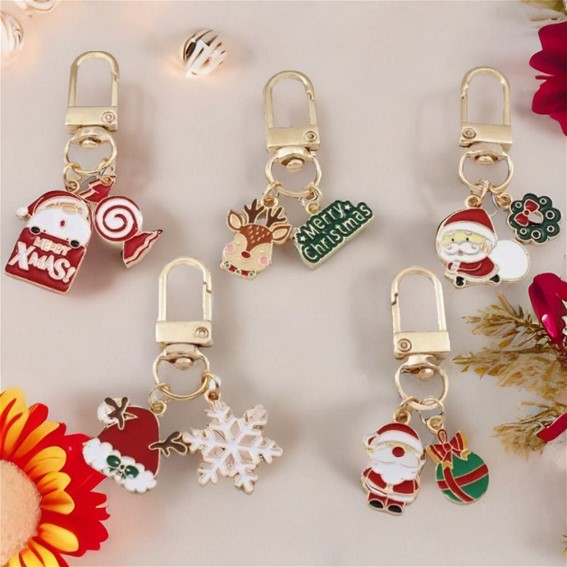 (L–R) Unique festive-themed trinket keyrings which you can accentuate the overall look of your bags, keys, or pouches certainly offer long-lasting brand visibility and resonate with recipients who appreciate the little things in life. Image credit: DTC World
Why we like it: Nothing compares to the exclusivity and distinctiveness of a DIY gift. Moving on to our next delectable petite gift is the miniature trinket keyring and the Christmas Keychain DIY Kit. Both gift ideas may be small in 'size', but surely are memorable in their Christmas vibe. Sparkly, unique and interesting — they also make long-lasting exclusive collectibles, which your recipients would appreciate all year long!
Ideal for: promotional GWP giveaways, redemption campaigns, limited-edition online campaigns
10. Bluetooth Speaker with Microphone Set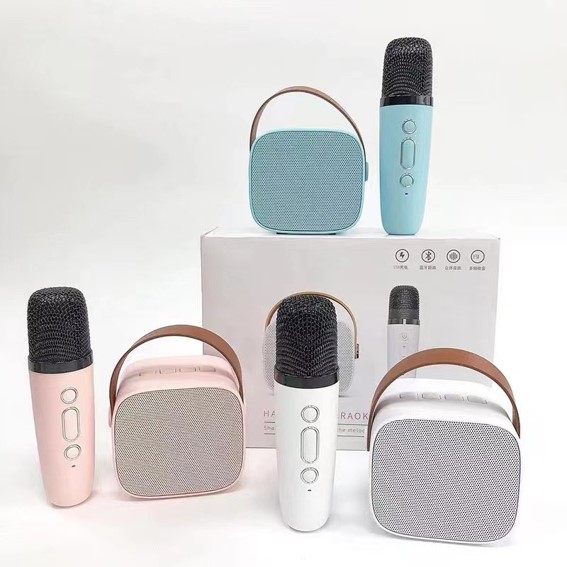 Listen to your favourite Christmas songs 'wire-free' with this sleek Bluetooth speaker. Small in size, but surely loud in sound. Featuring a subtle print area to incorporate your brand logo — this portable speaker makes an ideal introductory gift for your prospects, or a highly prized complimentary gift for your marketing campaigns. Image credit: DTC World
Why we like it: Take your promotional campaigns to new heights with our portable Bluetooth Speaker with wireless Microphone Set — a premium gift that perfectly matches the festive mood. Suitable for gatherings during the holiday season, this set combines high-quality sound with convenience, turning any event into a captivating musical experience and maintaining a strong recall of your brand.
Customise this Bluetooth speaker with your brand's logo or message, and turn this premium product into an effective promotional tool. More than just a gift, it is an opportunity to resonate with your brand's voice in every festive gathering — creating joyful memories that will keep your brand on top of mind.
Ideal for: event giveaways, redemption campaigns, limited-edition online campaigns, corporate swag, prospecting gifts
11. Christmas Hand Towel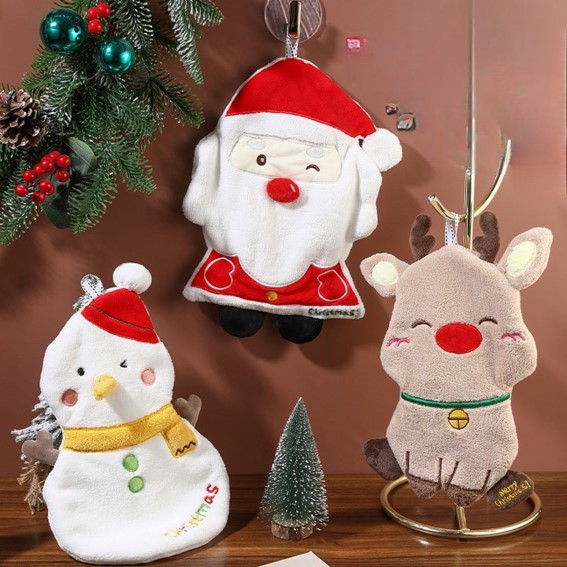 Everyone loves a cosy and plushy hand towel that is both adorable and handy whenever you need it! Image credit: DTC World
Why we like it: Be cosy and exceptionally plush this Christmas! Made from soft and absorbent fabric, these Christmas hand towels are as functional as they are festive. Customise each towel with your brand logo to provide a constant reminder of your brand throughout the festive season. A practical gift that keeps your brand in constant view, integrating your brand into the heart of the holiday celebrations.
Ideal for: promotional GWP giveaways, redemption campaigns, limited-edition online campaigns, event giveaways

12. Storage Glass Container with Christmas Tree Forest Gold Foil Prints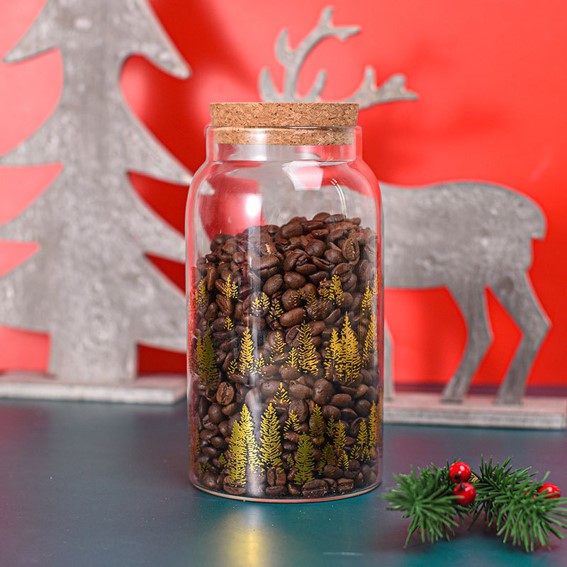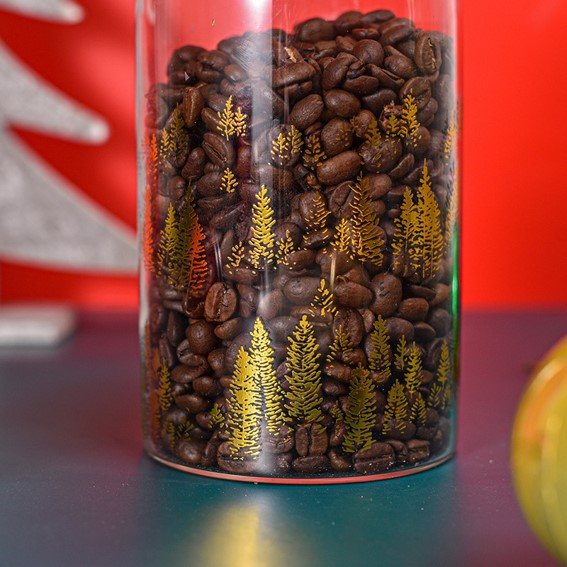 There's always room for another exquisite storage jar. Image credit: DTC World
Why we like it: We love how this glass storage jar is both functional and visually flavourful as a complementary home decorative to adorn (and transform) any space.
Each glass container is furnished with elegant gold foil prints of Christmas trees (or pick any preferred designs to reflect your campaign), a perfect way to bring the holiday spirit to your home. A cost-effective way for businesses to make a great impression, effortlessly add your brand logo and greeting texts onto the container to give it a more exclusive touch.
At family parties, office gatherings, or even product launches and promotional events, the cheerful prints — coupled with minimalistic aesthetics — can create a festive ambience that enhances the holiday experience for your recipients. Now this is what we want: timeless (minimalistic) appreciation gestures that generate great impressions, and reinforce your brand image, making it a powerful marketing tool.
Ideal for: promotional GWP giveaways, redemption campaigns, online campaigns, decorative ornaments, corporate gifts, event giveaways
Tips for Promoting Your Brand Through Various Platforms During the Holiday Season

✅ Create Engaging Holiday-themed Content: Develop a content strategy that aligns with the holiday season. Share engaging posts, videos, and articles that provide value to your audience while subtly promoting your brand. Use festive hashtags and keywords to increase visibility and engagement.
✅ Run Social Media Contests and Giveaways: Encourage user-generated content by running contests and giveaways on social media. Ask your audience to share their holiday experiences, gift ideas, or stories related to your brand. Offer attractive prizes to incentivise participation and generate buzz around your brand.
✅ Collaborate with Influencers and Brand Ambassadors: Identify popular influencers or brand ambassadors in your industry and collaborate with them to promote your brand during the holiday season. Sponsored content, gift recommendations, and product (service) endorsements can expand your reach and credibility.
✅ Utilise Email Marketing: Leverage your email list to send personalised holiday greetings, exclusive offers, and gift guides to your subscribers. Craft compelling subject lines and content that entice recipients to open and engage with your emails. Use email automation tools to streamline your campaigns and track results.
✅ Create Gift Guides and Product Collections: Curate gift guides and product collections that align with your brand and target audience's preferences. Showcase your best-selling products, highlight limited-edition items, and provide gift recommendations for different categories or price ranges. Make it easy for your audience to find the perfect gift while subtly promoting your brand.

______________________________________
Closing Thoughts
Bring the spirit of Christmas to every home and make your brand presence felt beyond this festive season. We hope this festive gift guide has provided you with valuable insights on how to boost your brand through unique gift-giving during this holiday season.




Festive seasons are undeniably the busiest sales period of the year. Like any business out there, you too, want to take advantage of this season and set a new high with your sales numbers. The heightened competition is going to be fierce; and to get your brand noticed — it all boils down to how memorable you are to your customers. Give them a great experience with your brand, and give them a reason to always want to shop with you again. (And not just for this Christmas.)




If you'd love to find out more about the Christmas gift ideas we've shared in this blog, just put our team to work — and our product and gift experts would be more than happy to fill you in!



More ideas and inspirations to elevate your holiday marketing: