According to a research article featured in *Journal of Service Research on "How Gifts Influence Relationships With Service Customers and Financial Outcomes for Firms", it has been found that "gifts can powerfully influence important customer perception and spending".
Giving gifts to customers will initially incur some costs, but in the longer term, it deepens customers' impression of you. You will wish to be at the top of customers' mind when they think of certain service or product.
For Finance, Insurance and Property industries where customers usually spend a significantly larger amount of money, it is worthwhile to send gifts to them, to thank them for the business. And hopefully in return, they will come to you again for repeat purchases. After all, servicing or selling to existing customers is less of a hassle than acquiring new ones. 
As a company, it is imperative to help your sales agents achieve customer satisfaction in order to clinch deals in this highly competitive world. One way is to create a Web Shop for agents to get company branded gifts for their customers, just like what Manulife has done in Vietnam (image below).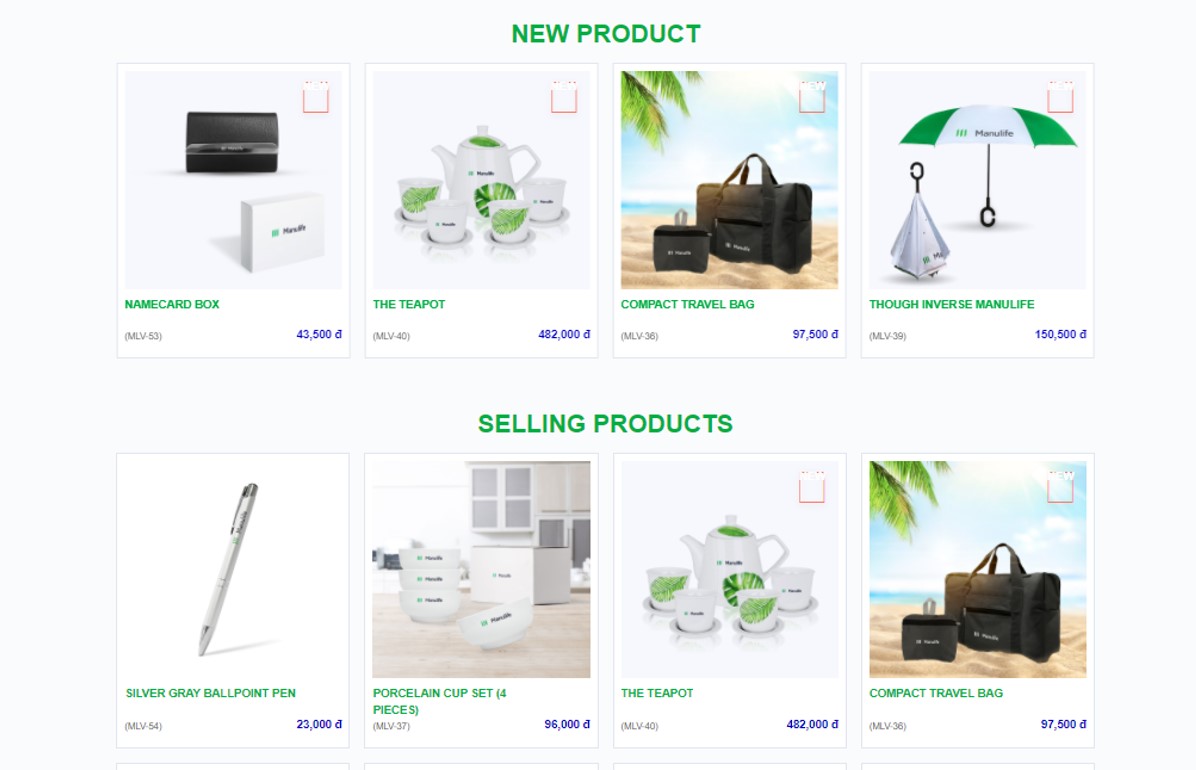 Photo credit : quatangtraotay.com.vn (Manulife online web shop in Vietnam)

Having a web shop offering an array of readily available gifts / premiums reduces the chance of giving something that the customer does not want or has no need for.
Some companies may decide to produce a single type of gift to be given to all customers. However, in the finance, insurance and property markets, customers are at different stages in life, have different aspirations and needs, it is challenging to have a one-size-fits-all gift. Worse, giving them items that are irrelevant to them may put them off instead.
With a web shop, sales agents, who have direct interaction with, and will know their customers better, will be able to select gifts which the customers will prefer and will use. When customers use the items branded with your company name, this will inadvertently boost your brand exposure as well. 
  "Always have an attitude of gratitude." - James R. Nowlin
When sales agents show appreciation to customers, customers will highly likely reciprocate with repeat or extended business.
Are you contemplating to create a web shop to streamline gifting to customers for your company?
DTC has the information technology knowhow on catering a centralized fulfilment online portal, to provide a one-stop gifting portal for companies use. With our vast experience in the corporate gift premium sector, we are also able to propose a wide range of products or items that are suitable for your clients. 
Contact DTC now to make an enquiry!
You may be interested in reading this:
Incentivized Meeting Premiums – TheCommScope Success Story : Global Virtual Partner Conference 2020
Click here to view other Blog posts.
*Source of information:

https://www.researchgate.net/publication/317027540_How_Gifts_Influence_Relationships_With_Service_Customers_and_Financial_Outcomes_for_Firms
This blog space is where DTC shares with our readers the Marketing Premiums, Promotional Products, POSM merchandises & Advertising Campaigns that we have come across in the industry. DTC does not advocate any brands or products mentioned in the blogs.