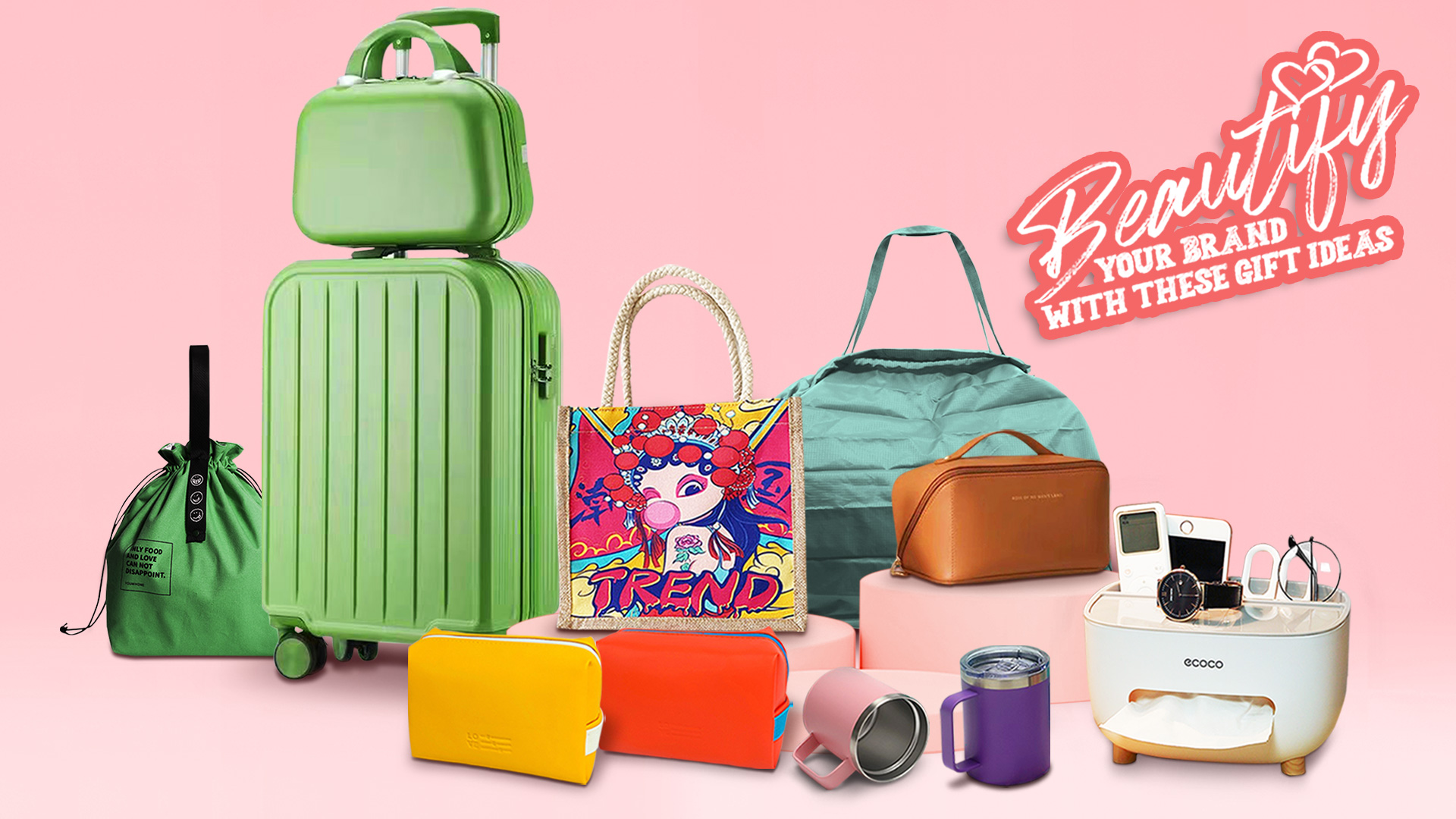 The time has passed when consumers are intrigued by just the brand alone. In this ever competitive industry, beauty retail brands are constantly seeing themselves up against more and more competitors. So, how do brands stand out among the crowd, and convert the potentials into their customers — ultimately, keep them coming back for more?
It all starts with understanding your customers' needs and desires. From getting engaged with your audience's lifestyle to the latest trends on the horizon, this helps you to plan effectively how to release your next products in the future. That said, beauty themed promotional gifts or giveaways are a simple, direct, yet effective method of marketing that helps any business, regardless which industry you're in.
We know you're constantly seeking gift ideas that resonate with your audience on every level. From travel related to lifestyle and leisure, to useful eco-friendly promotional gift ideas (for healthy and sustainable gifting), we have selected some of these themed gift ideas to complement your next promotional and marketing campaigns.
Gifts that add spark as an effective travel companion
Never let your brand get out of sight, out of mind. Create a reason for your customers to keep your brand close by even when they are on-the-go or jetting away for their holidays. That said, it is a great idea to select promotional gifts that offer practicality, convenience, while looking good, as a travel companion. Continue to stay fresh in mind, even after they return from the holidays, travel-related promotional gifts incorporate a sense of nostalgia for your customers.
Hard Shell Travel Trolley Luggage Set


Travel in style without needing to worry about your checked luggage getting dented, thanks to its durable ABS shell. The trolley luggage set comes in various sizes (checked, carry on, cabin), with an additional hand-carry travel bag. Minimalistic modern design complemented by a subtle pastel hue — this travel companion would surely lift your holiday mood even before you board that plane. Ample space available for any personalised touches you desire to turn this into a perfect travel gift idea.
Foldable Yoga Bag
    

A perfect promotional gift to add some adrenaline rush for sports events or sports-themed marketing campaigns. Alternatively, this multipurpose yoga bag also makes an awesome (and stylish) travel companion for your travels. Easily foldable with an expandable base that surely comes in handy when you need that additional storage capacity.
2-in-1 Travel Blanket Pillow
 

Travel at ease — and comfort — especially when you need to catch your forty winks. Easy to carry, this dual use travel blanket is effortlessly foldable and turns into a resting pillow. Practical and convenient, reward your loyal customers with this travel companion that will surely keep them feeling refreshed comfy after a well-rested nap.
4-in-1 Travel Dispenser
  

Travel light and at ease with this unique multi-purpose bottle. With compartments to store your shampoo, body foam, lotion, and sanitiser — simply rotate the top and you get instant access! No more rummaging your travel bag for separate bottles. Fret not, as the cover is leak-proof; so, no unwanted spillage disasters that will ruin your holiday.
Multi-functional Storage Pouch
  

While beauty elements remain as one of the key attention-grabbing factors, a product's usability and practicality that revolves around convenience follows closely, as a deciding criteria when a consumer decides to make a purchase. Take this multi-purpose washable pouch, for instance.
An easy-carry portable storage pouch to keep your travel essentials packed neatly when you hit the road. Made from durable PU leather fabric, this travel pouch is water resistant and easy to clean. Less hassle, and simply convenient, it will surely make your journey as stylish as the destination. Suitable to store your beauty must-haves, tech gadgets or other daily essentials — this is the perfect answer to stay organised, at home or during travel.
A minimalistic promotional gift idea perfect for your marketing campaigns, easily add a personalised touch with a company logo or a simple tagline.
Travel Neck Cushion Set with Attached Sleep Mask


A 2-in-1 travel companion that gives you a quiet and restful trip. An attached sleep mask, to cancel out all lighting; alongside a contour pillow that doubles as a side neck cushion. Designed for support and comfort, we think no one is saying no to a cosy and practical gift as this one. A caring and warm-hearted promotional gift that surely stays close to your customers' heart and mind.
Fashionable Gym Bag with Wet Pocket
 

If you're looking at size, versatility and washability, this is your ideal workout companion: as a gym slash sports bag, or even as a travel duffel. It has plenty of pockets to keep your smaller items organised. Speaking of compartments, you don't like when your shoes touch your clothes. The waterproof wet pocket doubles as a shoe compartment. All in all, its large capacity is perfect to pack all your sports essentials. Suitable for short trips, stylish in design — it can spruce up your GWP campaigns or promotional gifting. Also, it makes a good welcome pack or sign on gift for your customers.
One Button Automatic Folding Umbrella
    

Designed for smooth operation at the press of a button switch, this automatic collapsible folding umbrella gives you instant access to shelter — rain or shine — the moment you need it. A handy travel companion that makes commuting (in the rain) easier than ever. Its rubberised handle is designed for non-slip, comfortable one-hand holding; while the slim (but sturdy) and ergonomic design makes the use of umbrellas more effective and convenient.
Perfect as a gift for any occasion, you can add a personalised touch featuring your company logo — on this umbrella that comes in a wonderful array of colours, too.
Full-Size Classic J-Hook Umbrella


This is the quintessential umbrella. A sturdy wind-resistant frame coupled with quick-dry fabric material — it's ideal for any event or occasion; though it's totally great as an 'everyday' carry to keep you well-sheltered from any rain or shine. Elegant colours to choose from, this statement umbrella makes a practical gift for every one, whether it's to protect one from showers, withstand the wind or hold up for the long haul. (For one, a strong umbrella can be a handy protection for the ladies, too.)
And if you're looking for other umbrella inspirations to get out from the conventional designs, we may have just the ones you need. Head on to "Say Goodbye to Boring Umbrellas" and check out some of the umbrella selections on our blog.
Beautify your brand with an experience of lifestyle and leisure
Shoppers' appetite for beauty products clearly shows no signs of slowing down. When another lipstick shade or makeup palette is only a click away, convincing beauty shoppers to stay devoted and loyal to a beauty brand is tougher than ever. How can beauty brands entice their customers to pick them the next time they visit a retail store?
You can always try incorporating the influence of lifestyle and leisure into the beauty regime among your customers. Remind them how they can glam up their beauty routine. It is not just one of those bathroom vanities, sitting in front of a grooming mirror. Promote a beautiful and healthy lifestyle concept through day-to-day essentials works excellently to 'remind' them of your brand.
Foldable Grocery Bag


Do your grocery shopping in style with this less-is-more reusable grocery bag. A great idea to remind your customers how to stay stylish with less-is-more, while caring for the environment, too. Made from durable material, foldable and washable — this super compact bag makes a good promotional gift idea to promote a sustainable lifestyle. Do your grocery shopping in style with this less-is-more reusable grocery bag. Made from durable material, foldable and washable — this super compact bag makes a good promotional gift idea.
Jute Ladies Bag
 
Customise your logo and design on this jute bag, making it a trendy and eye-catching bag that ladies want to have. Jute is reusable, recyclable and eco-friendly — makes it an ideal promotional gift to complement your GWP or go-green campaigns, as an impactful way to showcase your company's values and efforts towards creating a sustainable and eco-friendly brand. It's good to let your existing and potential customers know you care about the planet.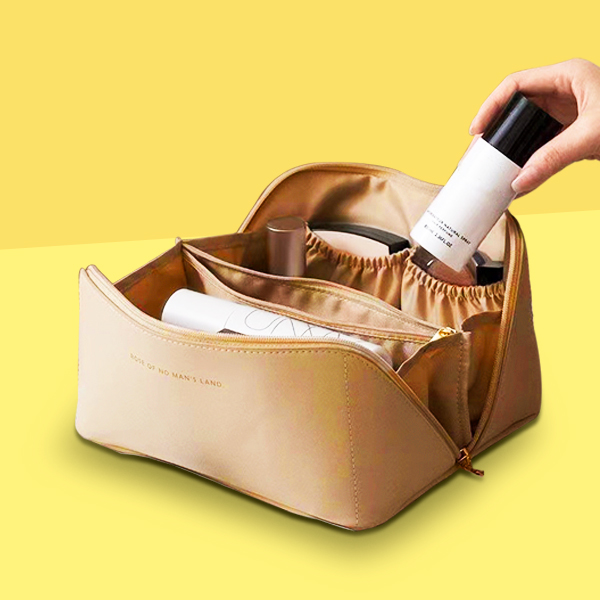 An elegant travel makeup pouch made of easy-to-clean and durable PU leather fabric. Its minimalistic design exudes a touch of elegance to your style. Portable and lightweight, with a large storage capacity, it makes the perfect customisable travel accessory to hold all your on-the-go essentials — makeup, toiletry, etc. Suitable for pretty much all kinds of daily or travel use. Add a personalised touch with a printed logo, and we are sure your clients would be delighted to receive this gorgeous gift. You can even choose from a variety of colours and pick one that is most aligned with your brand image.
Level up your beauty brands with a variety of fresh-looking cosmetic pouches to reward your customers — delighting them with a heartfelt "Thank you for choosing us" gift.
Multipurpose Accessories Organiser and Tissue Dispenser

  
A multipurpose organiser that stores your grooming essentials, it also works as a tissue holder. Looking elegant as a tabletop display, it comes with several compartments to keep your beauty products in place. A great promotional gift to capture your beauty shoppers, this accessories storage box is every lady's must-have. Functional and graceful, it is suitable for use in the bedrooms, office, F&B outlets or washrooms.
2-in-1 Cushion Blanket
  

Snuggle up and get cosy with this dual purpose cushion blanket. Easily turn a fuzzy pillow into a warm blanket — you can use it at home, or pack it along with you on one of your getaway travels. Customise it with your preferred design and turn it into a travel gift for your customers. (Psst: And stay top of mind all year round with this warm-hearted gift.)
Quick Drying Towel
 
A wonderful essential to keep your brand at the back (top) of mind among your customers — the moment they step out of shower, all the way throughout their grooming 'me-time.' Anyone with long, voluminous hair would adore this quick dry and lightweight turban towel. No more walking around with a heavy towel on your head: keep it under wrap, do your make up, get your glam up — while your hair stays put and dries, quickly! Ideal for everyday use at home, in the gym and travelling.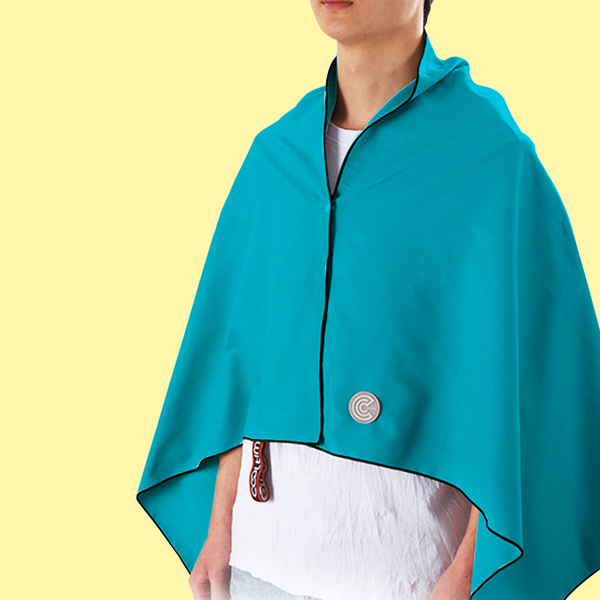 Get in the sun with a peace of mind, without worrying your skin getting exposed to harmful UV rays. Ultra absorbent with speed-dry feature, this innovative towel is embedded with a UV detector. Suitable for sports or activities out in the sun to keep you protected from UV exposures or sunburn.
Connect with your customers through eco-friendly brand messaging
With the increased awareness of green cosmetics continuing to soar, consumers are not merely interested in the products alone — they are interested in the process. The benefits of green beauty products extend beyond just trends. Studies have shown that the natural cosmetics market is growing rapidly and consistently. We have also witnessed more and more beauty brands are shifting to sustainable cosmetics and beauty products.
In modern marketing, the word 'green' has become synonymous with 'organic' or 'healthy'. How do beauty brands get ahead of the trend and demand of the market? From product packaging to brand messaging, beauty retail brands can inject the 'green' statement brilliantly to capture the customers' attention. And sustainability is more than just using a series of organic makeup sets in your beauty regime — it also means carrying your organic beauty essentials in an eco-friendly beauty pouch, for instance. Let's check out some of the eco-friendly promotional gift ideas which you can effortlessly incorporate in your marketing campaigns to beautify your brand message in a sustainable way.
Drawstring Insulated Cooler Lunch Bag
  

Care for the environment in style with this travel drawstring lunch bag when you pack your office lunches or snacks for those short weekend getaways. Having one of those insulated lunch boxes will prove to be of great help to your eating habits, too. Instead of eating take-out, you can save money and live more healthily by eating homemade food. But, nothing compares to enjoying a good, warm meal when you want to eat it, right?
This stylish drawstring lunch bag keeps your food and beverage at the right temperature until it's time to eat! Its Japanese-style inspired design offers a lot of storage room to pack along your bento boxes, beverages among other essentials.
The eco-friendliness in its versatile drawstring design along with a solid grasp handle is brilliant to create a promotional product that is sure to make a statement — increase your brand awareness and deliver a great ROI.
Insulated Coffee Mug with Handle and Lid
  

Every road trip, beach blast, and long day in the office will at least be accompanied by a constant supply of beverages at the right temperature — the way you want it. Vibrant colours on top of its coated surface, which again, provides ample space for any personalised touches — this portable coffee mug makes a great promotional gift for your loyal customers, or a customised employee swag for the team!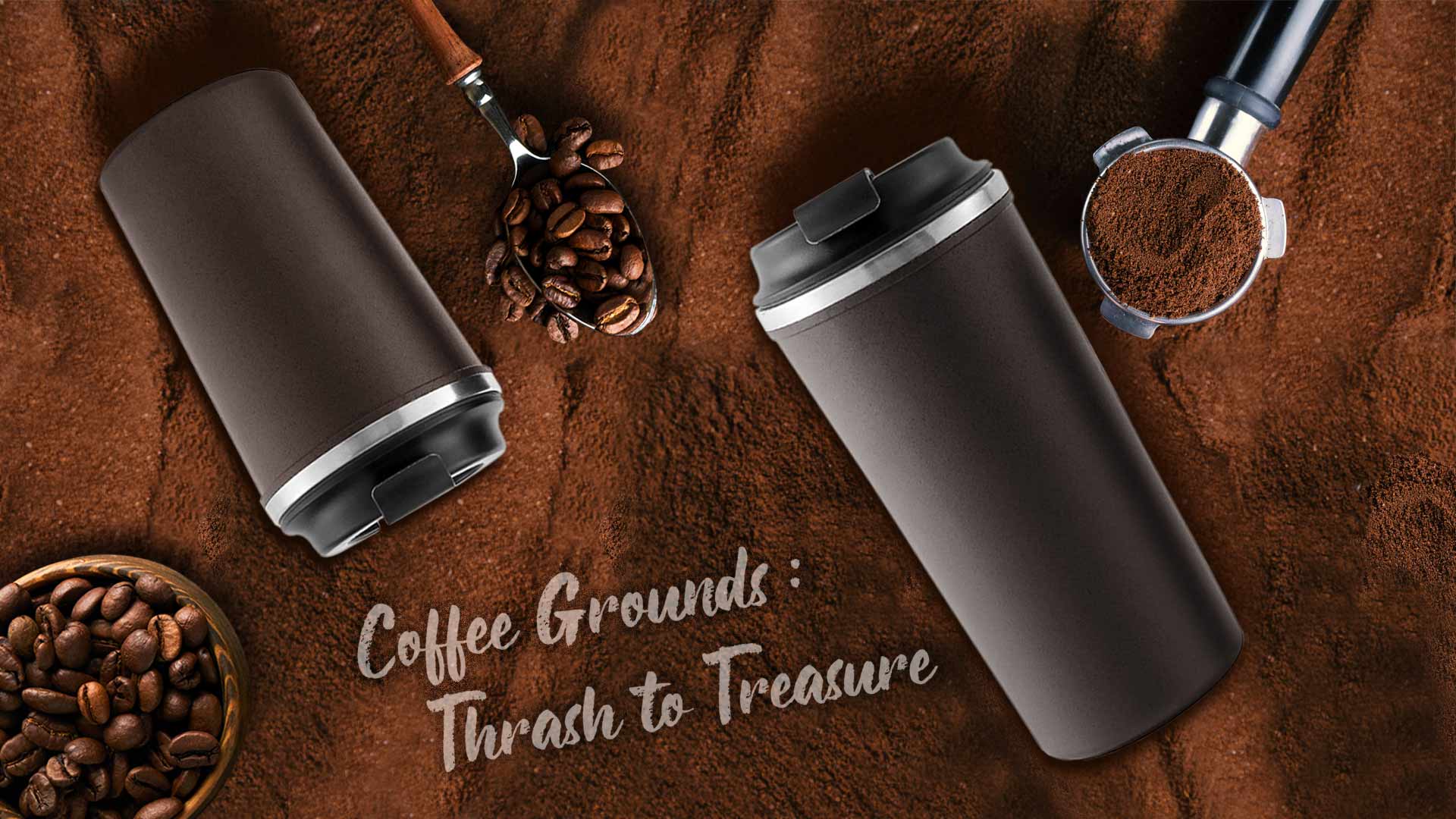 Looking for more sustainable products to inspire your clients or customers, as you showcase your brand's green message? Check out our coffee grounds-inspired gift ideas to 'upcycle and repurpose' your marketing campaigns.
Sleek Stainless Steel Thermal Bottle
  

Whether you're headed to the gym or a quick jaunt across town, carry along your favourite beverage with you in this sleek bottle. Its matte finish gives an elegant and minimalistic vibe. Its tight-fitting twist cap with a silicone seal is designed to ensure no leaks. The body's ample space is suitable for both print and engraving, for you to add personalised touches, as a gift. With a variety of colours to choose from, this insulated drink bottle offers an environmentally conscious alternative to plastic bottles.
Personalised Stainless Steel Vacuum Flask
  
Redefine your style statement with this stylish eco-friendly on-the-go vacuum flask. Perfect for any occasion: office meetings, outdoor activities, or yoga sessions. Designed with modern minimalist in mind, its unique exterior — from the cylindrical body to the string-on-lid element — this ensemble will surely add an elegant and classy touch to your promotional campaigns.
Eco-Friendly Food Safe Silicone Lunch Box


Prepare your meals takeaway in these colourful eco-friendly lunch boxes, as a step to help reduce waste, because you can readily reuse these food containers pretty much forever. Its multiple compartments are ideal for hot and cold foods, a versatile to-go ware — whether it's for the kids, outdoor picnics, road-trip snacks, or as a refrigerator organiser.
Compact Foldable Grocery Tote Bag
    

Fold at ease and toss this palm-size compact grocery tote into your bag when you head for the grocery store. Durable and washable material makes it a wonderful shopping companion for both the ladies and gents. With a large printing space to incorporate your preferred design and personalised touches — spice up your marketing or promotional campaigns with this gift.
Reusable Cotton Woven Mesh Tote Bag


Easy carry, easy care and easy to use. A great (washable) net bag perfect for any reason: a trip to an outdoor sport activity, grocery shopping, or picnic. Good for the environment, its strong and expandable netting naturally stretches to accommodate almost anything you wish to put in it — from produce to books and clothes. A good choice as a promotional gift item to showcase your company's go-green campaign and sustainability efforts.
Closing Thoughts
In the highly competitive beauty and cosmetics market, simply owning a beauty brand with great products is not enough. You have to work hard to tell your unique story, to reach out and engage the right audiences. As they say, if you take care of the customer, the sales will follow.


The more personalised the gift is, the more exclusive it gets, the stronger the brand loyalty. In DTC World, we are dedicated to thinking in the best interest of your brand and business — that's why we made it our mission to find the best suited gift ideas to complement your marketing efforts.

If you love any one of the beauty promotional gift ideas we have compiled in this article, just put our team to work — and our product and gift experts are more than happy to fill you in. Let us walk you through on how you can customise fresh-looking designs and unique concepts — for your ultimate appreciation gesture to reward your loyal patrons.

More promotional gift ideas for you to complement your impactful marketing strategy:
Your Promotional Gift Represents Your Brand – Build a Brand, Not a Commodity

Gift Ideas That Will Break Through the Noise

5 Tips To Turn Your Brands Into Creative Tote Bags