Who doesn't love a free gift? When we go shopping and we see promotions where there are free gift-with-purchase (GWP) items, we will tend to turn around and take a second look at those promotions.
Offering free gifts to entice customers to buy your products and services is one popular and effective marketing strategy that brand owners and marketers use to stimulate sales numbers.
Let us take a look at what are some of the on-going GWP promotions that we can see in the market now. You may find some ideas for your own marketing needs, and chance upon some really good deals!
Lipton Tea gift-with-purchase: free Lipton Thermal Bottles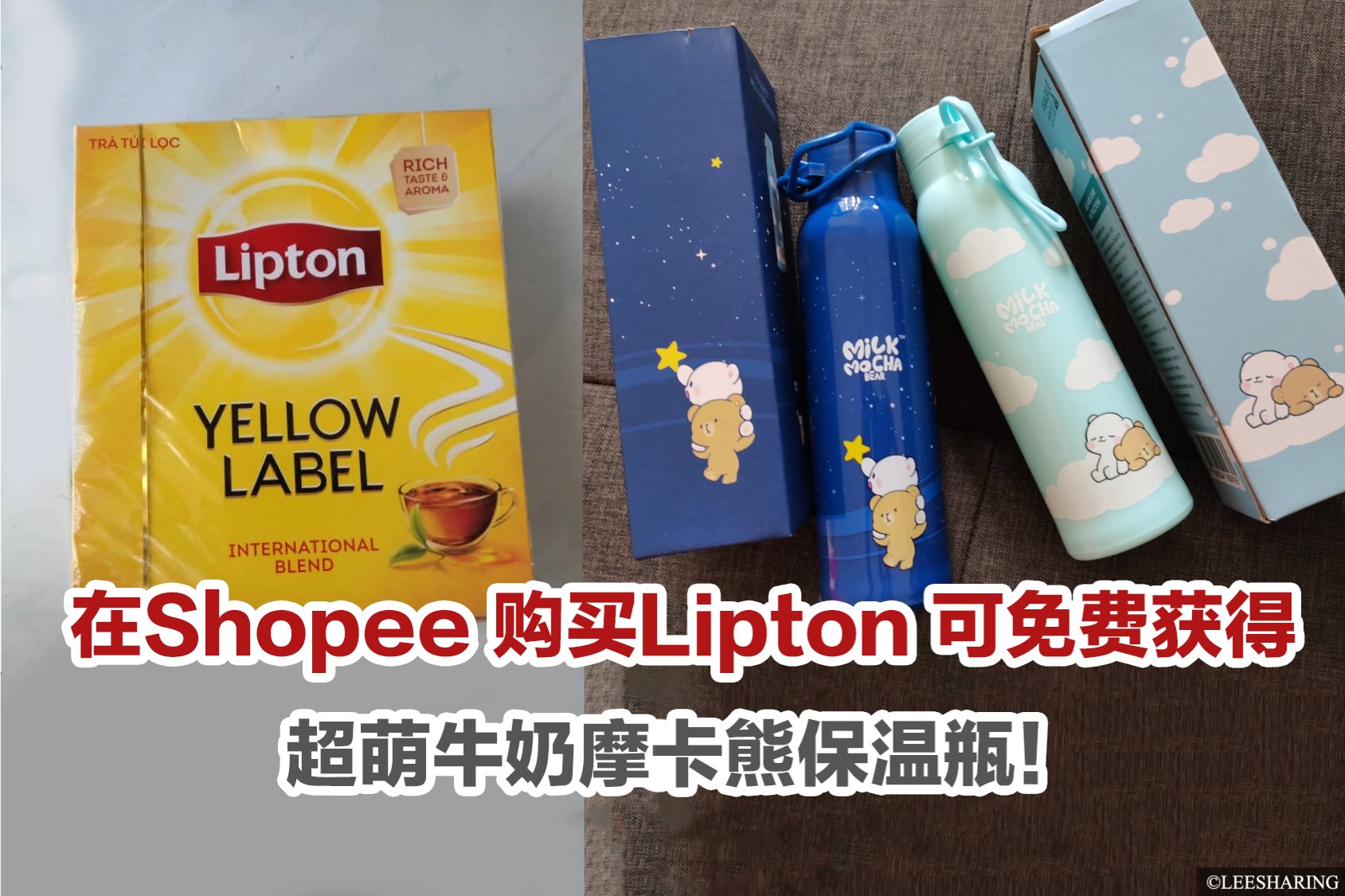 Photo:@LEESHARING
Shopping for Lipton tea on Shopee and get rewarded with the free gift of Lipton Thermal bottles with sweet and adorable Milk Mocha Bears designs. A drinkware that can be used to enjoy the Lipton tea.
free Luminarc Lunch Container & free Dove Sakura Bottle

Photo:Shopee MY
Purchases of RM38 of Homecare or Total Dove products will receive a free gift of Luminarc Lunch Container and Dove Sakura Bottle respectively. Functional items that everyone has uses for.
free Luminarc Jar 1.1L & free Lux Bath Puff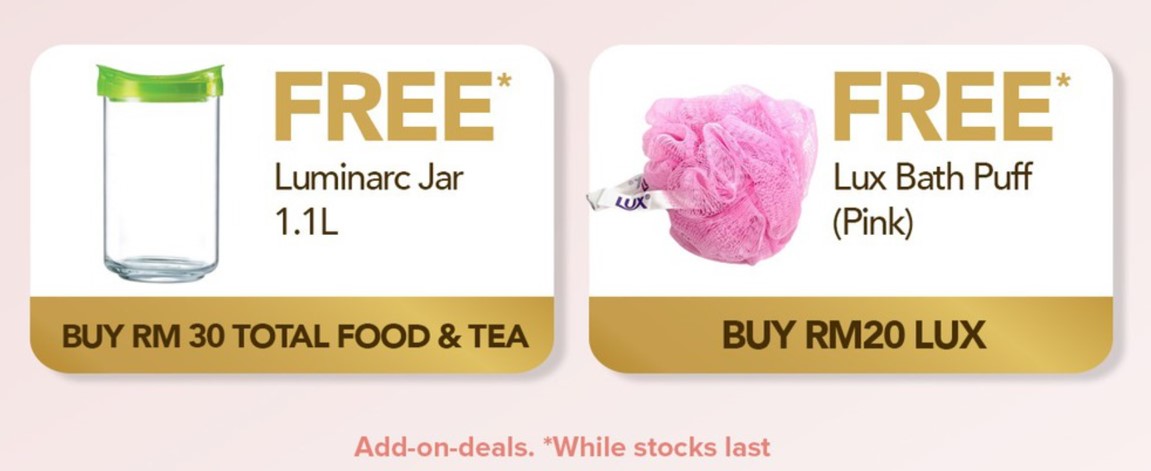 Photo:Shopee MY
Luminarc kitchenware seems to be well-sought after these days. Buy RM30 of Total Food & Tea products to get a free Luminarc Jar.
Purchase of Lux bath products can get a free Lux Bath Puff to go with as well!
free Unilever Sumikko Gurashi Ceramicware Set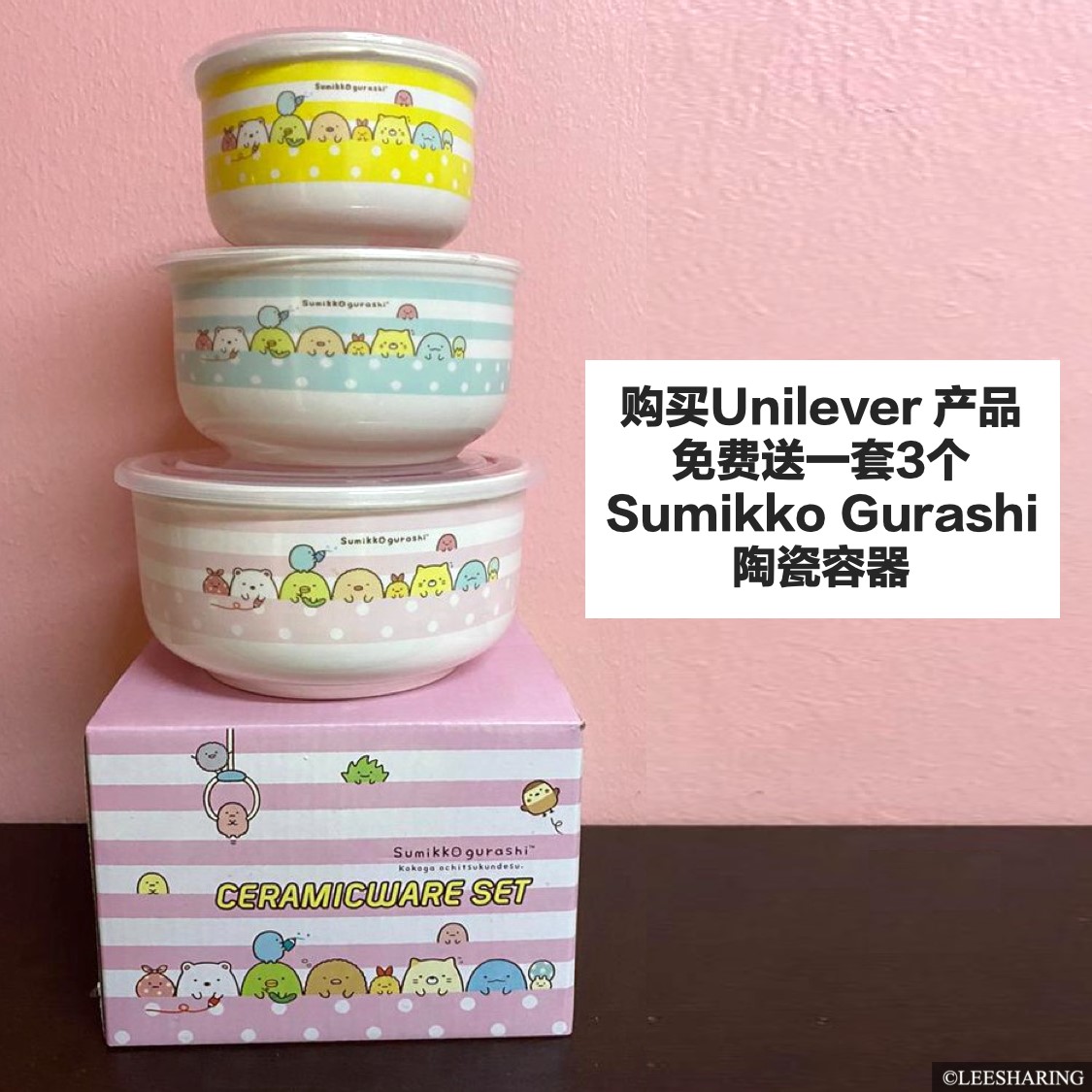 Photo:@LEESHARING
Just looking at this pastel-colored Sumikko Gurashi ceramicware set makes one want to get a set immediately. These durable ceramic containers will be yours when you purchase Unilever products on Shopee MY. In case you are wondering, brands of products under Unilever include Lifebuoy, Lipton, Cif, Knorr, Ben & Jerry's etc... An effective way to boost sales for various brands of products under the same company.
Brand's Essence gift-with-purchase - free Ribena Mason Jar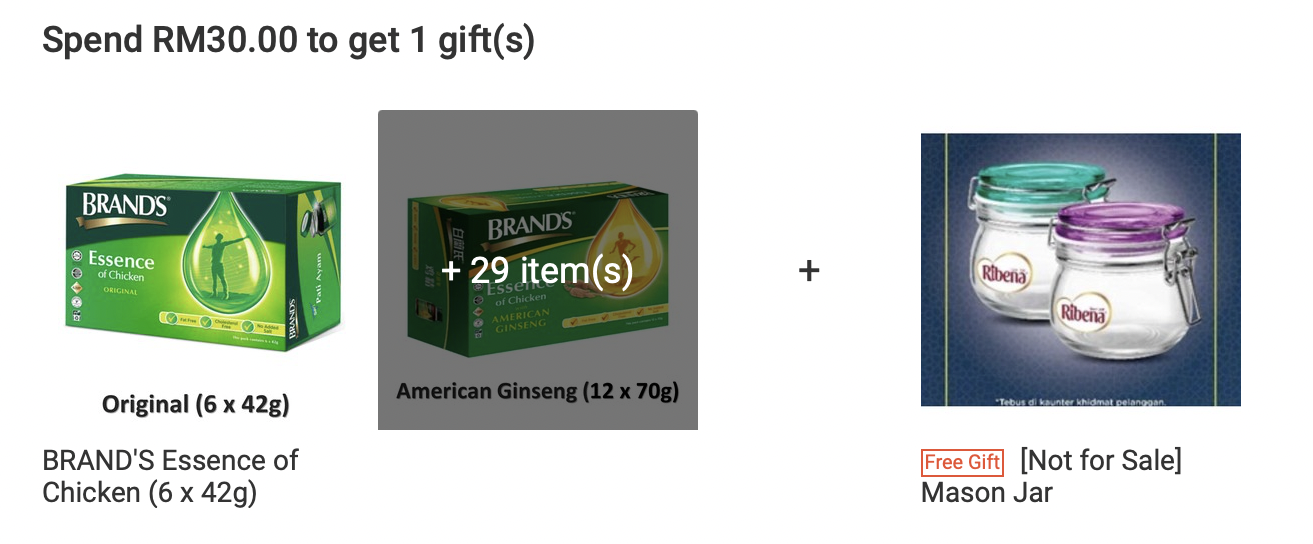 Photo:Shopee MY
Looking for something to boost your alertness while working from home? Brand's essence is having a promotion where you can get a free Ribena Mason Jar. Just nice for storing dry food, candies and cookies, suitable for storing anywhere at home.
Maggie Fusian gift-with-purchase - free Maggie Cutlery Set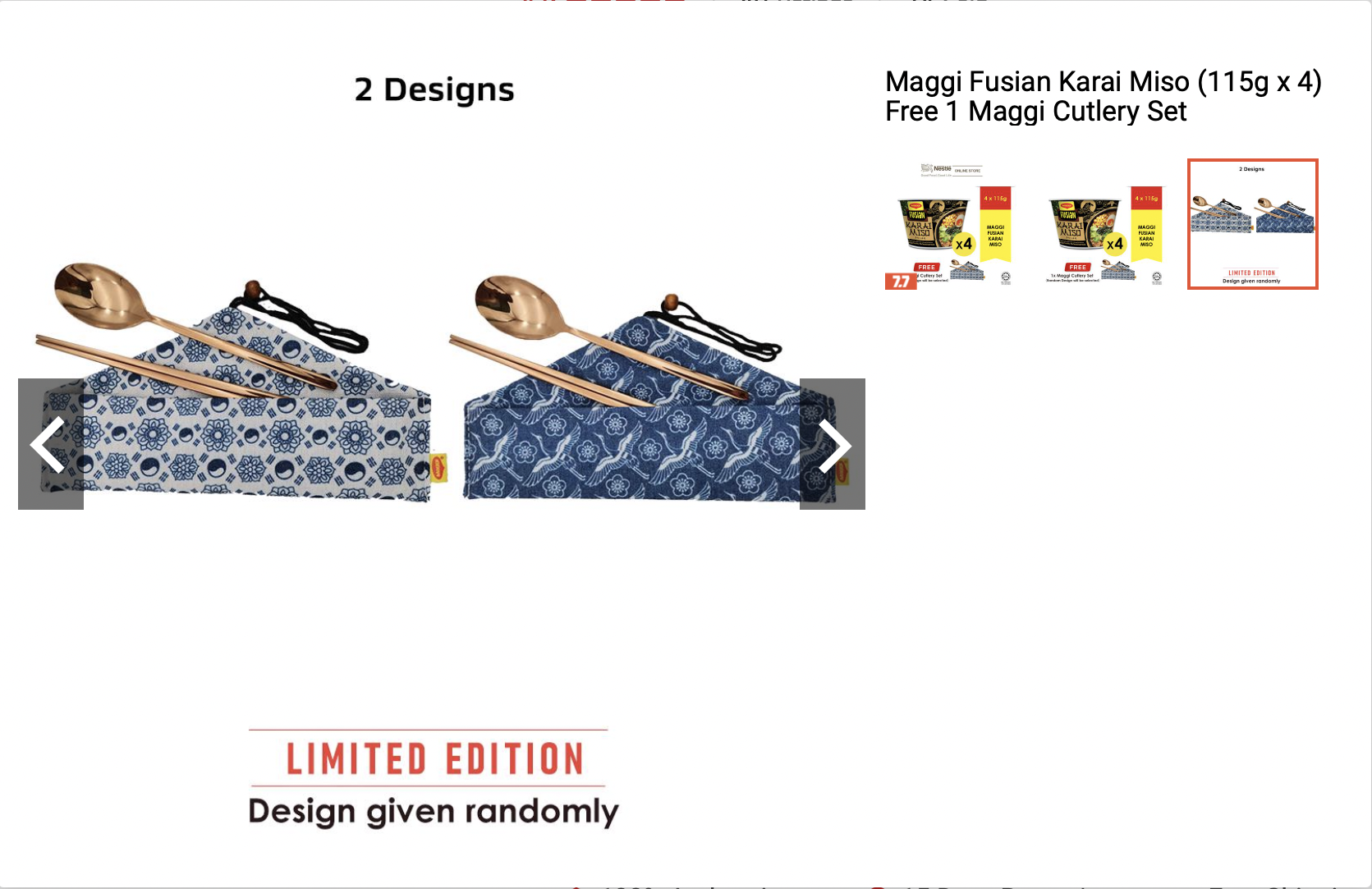 Photo:Shopee MY
Everyone enjoys eating instant noodles once in a while. Maggie is giving away a classy designed Maggie Cutlery Set, consisting of stainless steel chopsticks and spoon in a Japanese style pouch. Just the right utensils for consuming Maggie; encouraging consumers to reduce using disposable utensils too!
Pepsi gift-with-purchase - free Pepsi P&M T-Shirt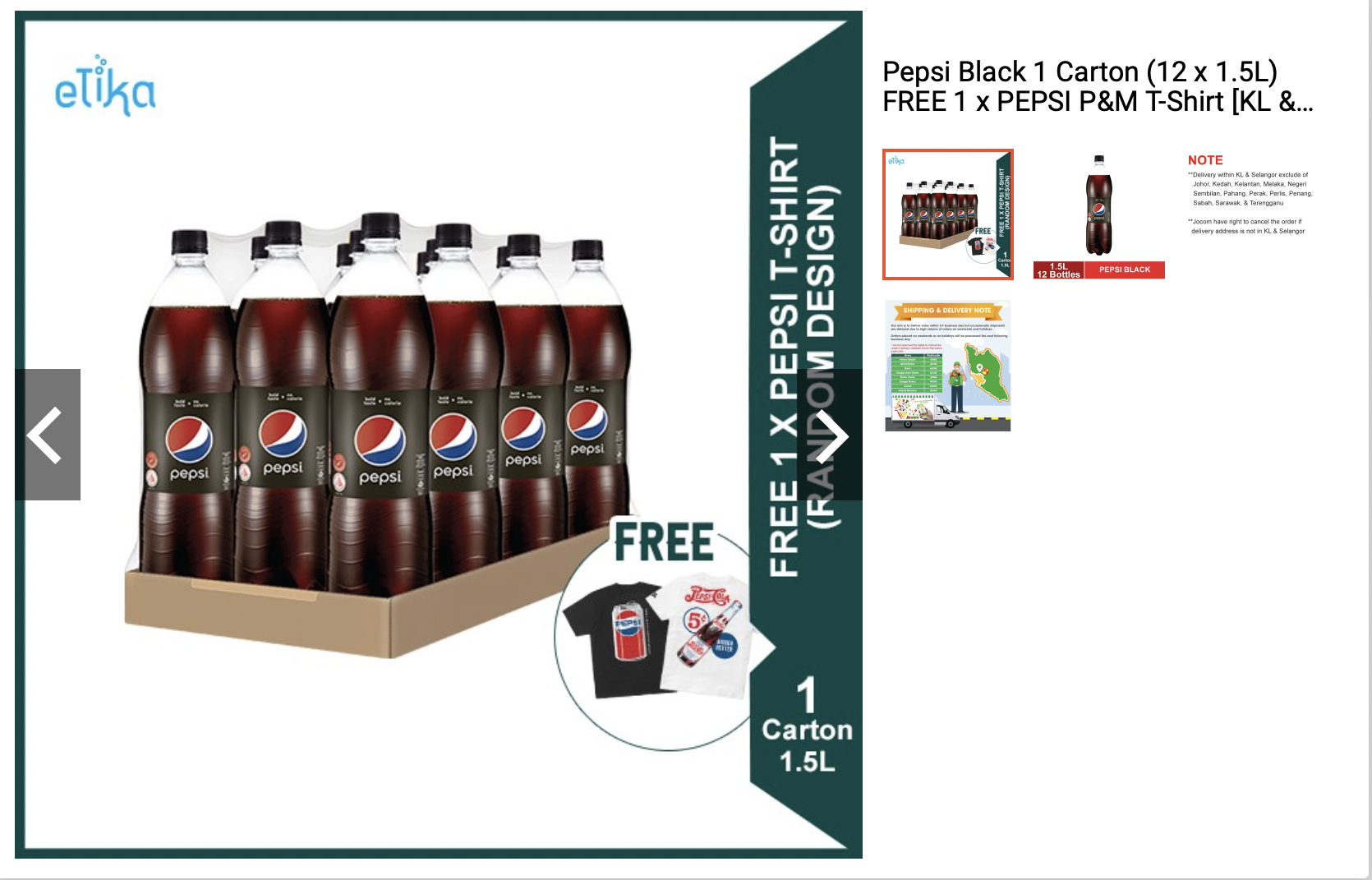 Photo:Shopee MY
Pepsi is a soft drink beverage brand that everyone is familiar with. Fancy a branded P&M Tshirt with the iconic Pepsi motif? You can get this free Pepsi P&M T-shirt by buying Pepsi drinks too.
When people are seen donning the Pepsi P&M T-shirts on the streets, it helps in increasing brand exposure, reminding consumers of the Pepsi drinks as well.
Pepsi gift-with-purchase - free Pepsi x Blackpink Set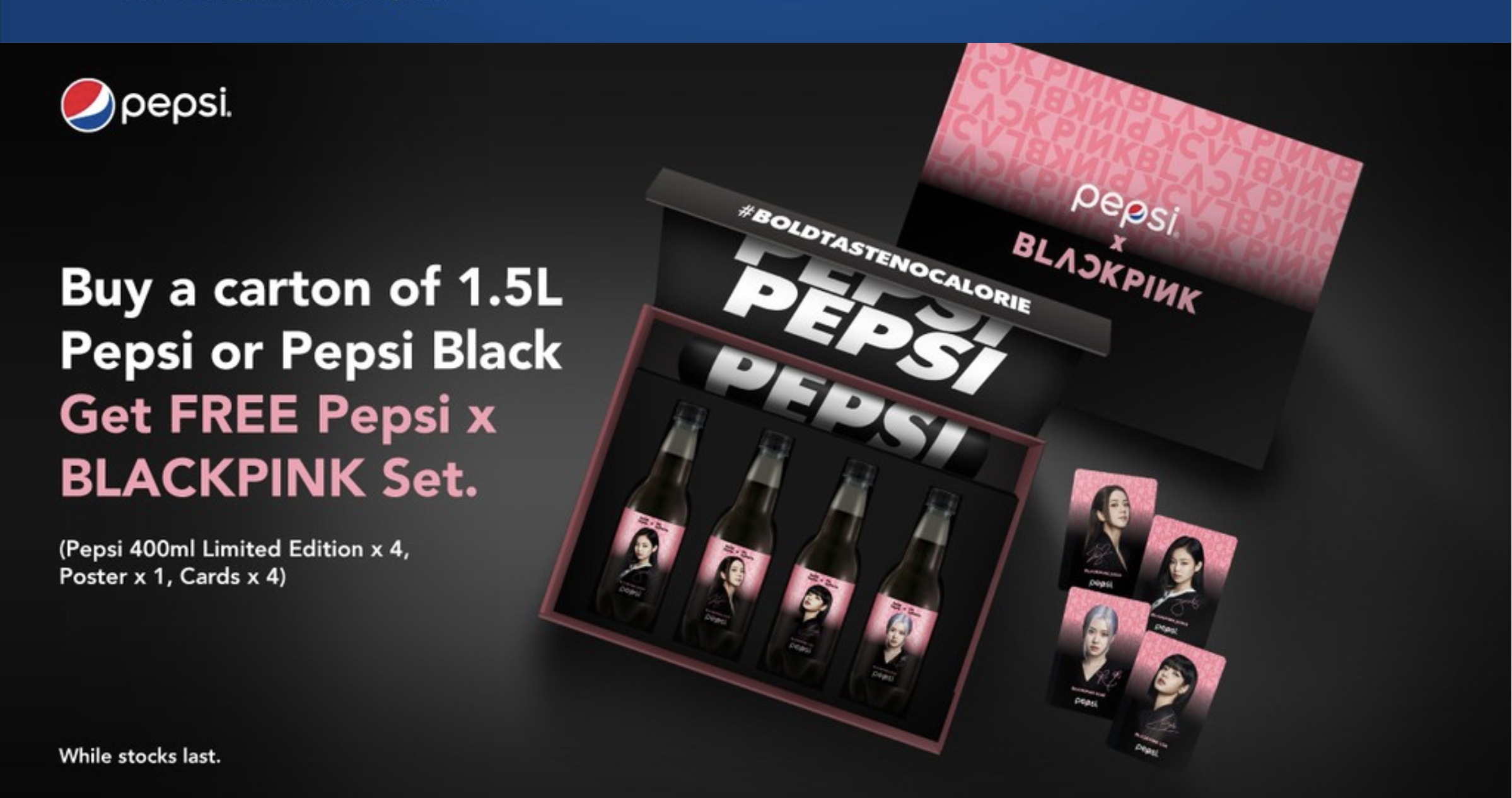 Photo:Shopee MY
Blackpink is one of the most popular girl pop groups among international K-pop fans. This Pepsi x Blackpink set is set to ignite the fire in Blackpink fans, urging them to want to get a set too. The black and pink contours on the packaging increases the uniqueness of the gift set, highlighting both the Pepsi Black and Blackpink concepts.
Utilising the popularity of singers, pop groups and artists, and producing gifts and merchandise that feature these entertainment artists, is an effective strategy to reach out to & engage more customers too.
F&N gift-with-purchase - free F&N Teh Tarik Face Masks
Photo:Shopee MY
Face masks are seen as a necessity nowadays. Quality face masks are well-liked by many, and it reflects well on the brand when people are seen wearing its masks.
Milo gift-with-purchase - free Milo Football Plushie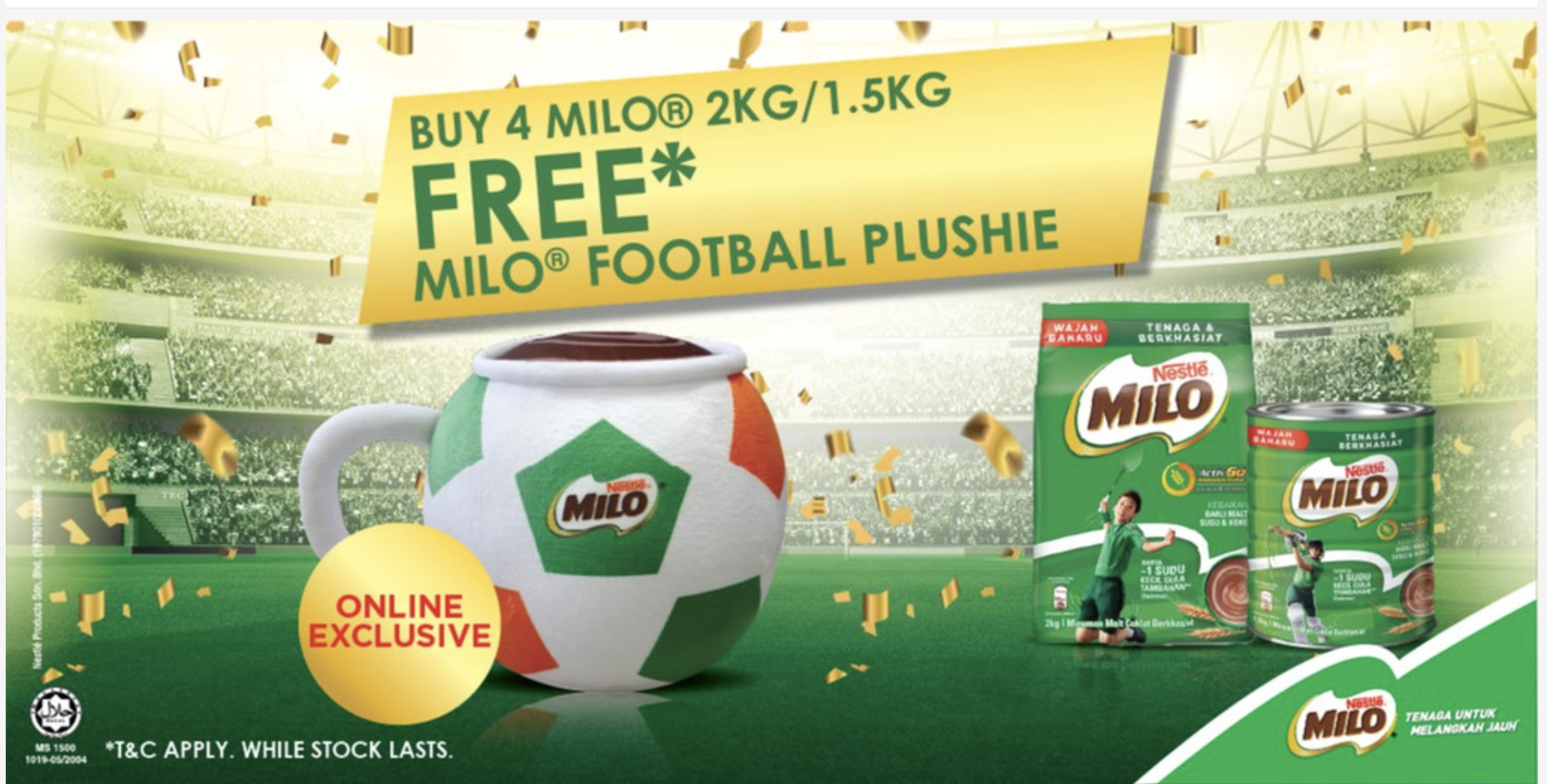 Photo:Shopee MY
We can constantly see Milo having various kinds of promotions for the different types of Milo beverages. The merchandise that accompanies these promotions are really outstanding, often bringing out the brand motif, and makes it instantly relatable to the Milo brand at the first look.
Just like this bespoke Milo Football Plushie. One glance at it, and you can associate it with Milo without fail. Customised gift, unique to brand, a great collectible for consumers.
Nescafe Dolce Gusto gift-with-purchase - free Nescafe Thermos Flask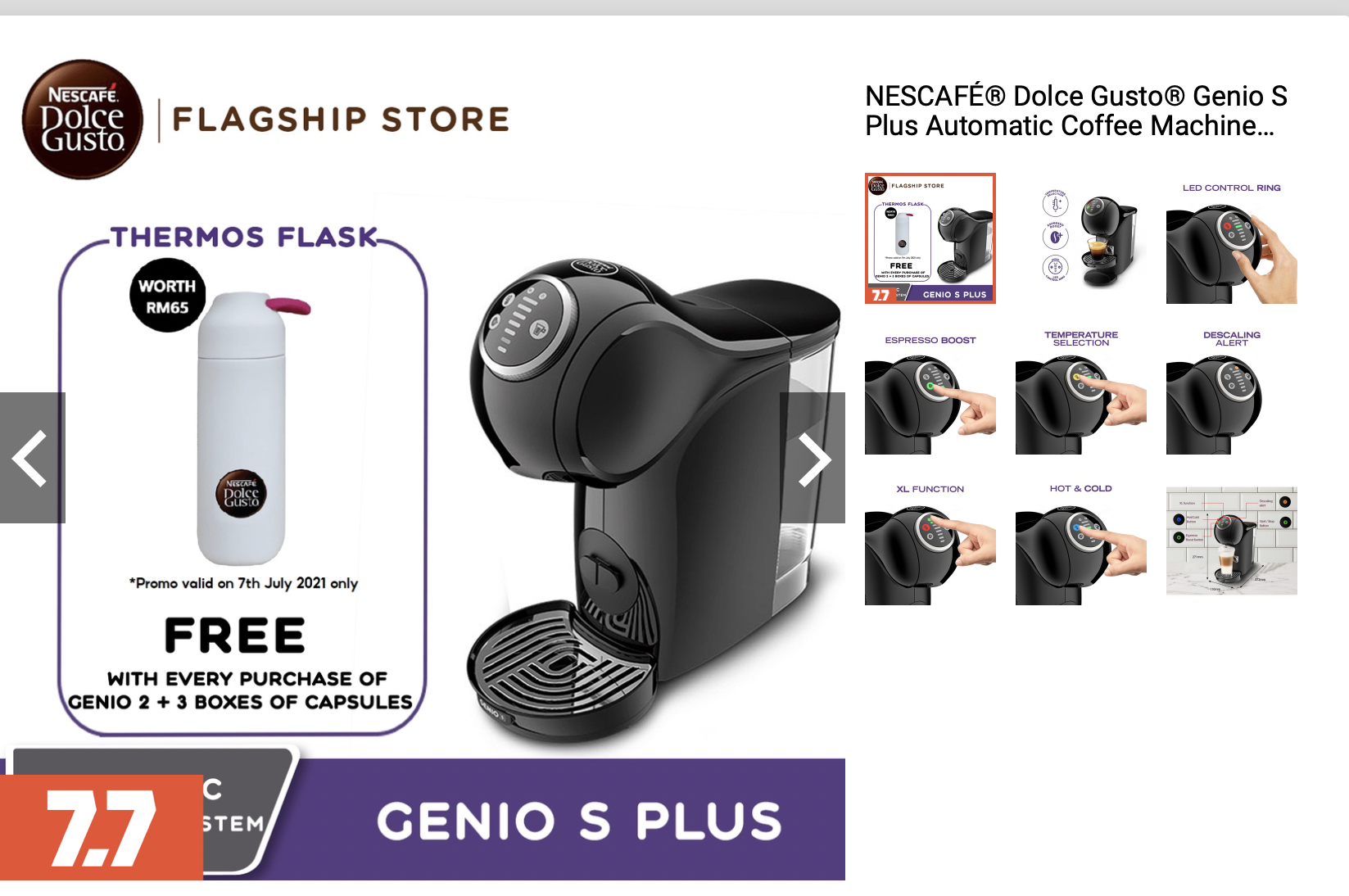 Photo: Shopee MY
During the Covid-19 period when many have been staying at home, more coffee lovers have begun to brew coffee at home. With this Nescafe Coffee Machine at home or in the office, you can enjoy the coffee anytime. And it comes with a free Nescafe flask to keep the drink warm for consumption.
Nestle KOKO Krunch gift-with-purchase - free KOKO Krunch Magic Painting Book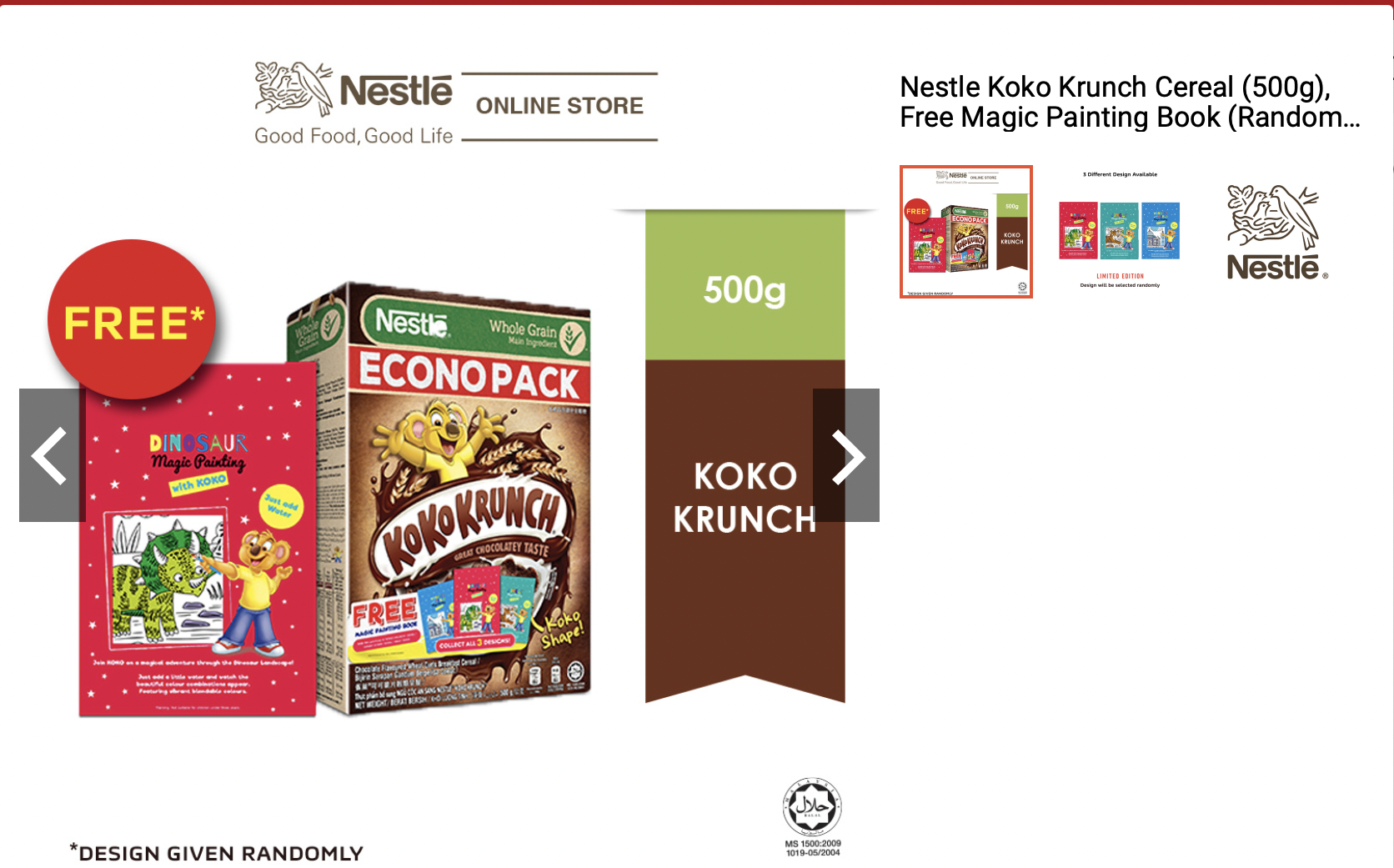 Photo:Shopee MY
Koko Krunch and cereals are considered healthy and great food or snacks for kids. Let the children enjoy eating and snacking, while also being able to keep kids entertained with these free painting activity books!
Kellogg's gift-with-purchase - free Kellogg's Fruit Tote Bag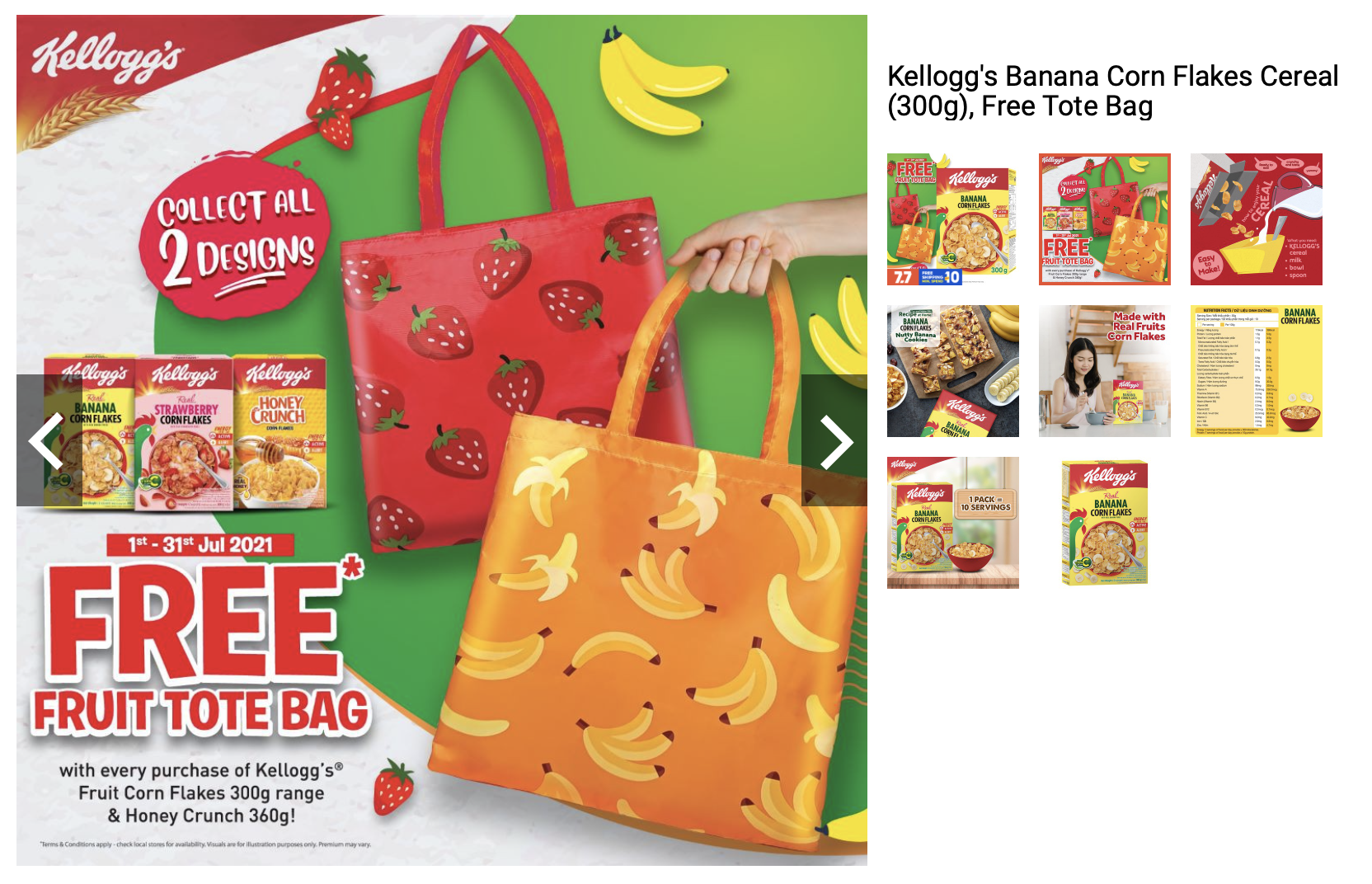 Photo:Shopee MY
Cereals and Corn Flakes are typical breakfast items, especially for health-conscious consumers. Purchasing the fruity flavours Kellogg's corn flakes is entitled to free gift of fruits-designed tote bags.
Embarking on Free gifts with purchases to add value to your brand and to convert buyers? Contact DTC today!
We have years of experience in designing and product sourcing. You can rely on us for producing promotional giveaways for your marketing campaigns.
Popular Blogs for your reading pleasure:
Supermarkets Gift-with-Purchase Promotions
Plastics Alternatives for Sustainable Promotional Gifts
7 Tote Bags Loved By Marketers
Disclaimer
This blog space is where DTC shares with our readers the Marketing Premiums, Promotional Products, POSM merchandises & Advertising Campaigns that we have come across in the industry. DTC does not advocate any brands or products mentioned in the blogs.