A little appreciation goes a long way. And when it comes to sending a little gift of appreciation — it's the thought that counts.
This little gesture is a powerful way to create connection, whether it's with your external clients, customers or internal teams of employees who have supported you through thick and thin. That's why when it comes to sending a little gift of gratitude — it's the thought that matters. (And how these small gestures could have a huge impact on your business.)
In a study conducted by Alyce, it was discovered that companies are increasing their investments in corporate swag and spending an estimated average of US$226k, annually. 90% of respondents claimed that they purchase apparel, drinkware (68%) , gadgets (46%) and electronics (44%) — as their preferred swag items of choice.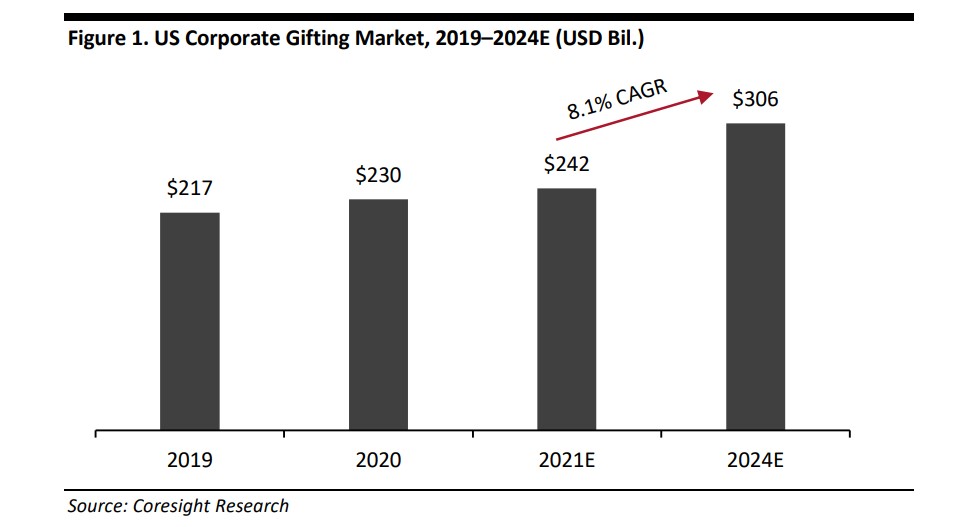 Image 1: A research study depicting the estimation of the corporate gifting market in the US, 2019 – 2020. Source: "Unwrapping the American Corporate Gifting Opportunity"/Coresight Research
Businesses understand the power of corporate gifting; and the statistics from a study conducted by Coresight Research (in 2021) also revealed that the gift-giving industry has experienced significant growth in recent years. It is projected to experience a US$64 billion boom during the next three years — likely to surpass US$300 billion by 2024. The research, which surveyed 300 corporate buyers in its study sample, discovered that the pandemic has increased both the frequency as well as the amount spent on gifts.
Swag done right with unique, customised corporate gift ideas
Gestures of gratitude can impact your business. The past two years have been rough (and challenging) for many of us. From adapting to new work arrangements to day-to-day lifestyle, there has been a lot of stress and unforeseen roadblocks. With a brand new year fast approaching, this is a great opportunity to reward your clients with a unique 'end-of-year' gift to stay connected. It will be a sweet thing to do for your internal clients — your employees — to keep them motivated and engaged.

At DTC World, we are always looking for ways to make corporate gifts more meaningful and memorable — for your recipients. We believe that corporate gifts can be fun, useful, and more importantly, engaging.
From personalised drinkware, to premium leather items, corporate gifting is a warm gesture to convey your appreciation and gratitude. And it allows delicate customisation that makes your gift even more personal, and exclusive. (And no, when we mention keeping the gifts personalised — we don't mean slapping your company logo on every item you send.) We are talking about sending a client a gift that could convey part of your organisation's culture. It showcases your company's values on what you hold dear.
The essence of corporate gifting lies in relationship building
A well-thought gifting strategy that blends in the elements of uniqueness and personalisation, favourably develops an emotional connection between your recipients and your brand. In a study conducted by Forbes, approximately 80% of the companies said that corporate gifting has improved the relationship with their employees, and/or clients — significantly.
Aside from strengthening relationships and improving morale, corporate gifting also fosters a sense of ownership and emotional connection with your brand — making it all the more crucial to get it right. Practical, beneficial, and something the recipient would undoubtedly adore — we have compiled a selection of year end premium corporate gifts for you to say the perfect "Thank You".

More than just saying thank you, it is about building relationships, connecting with the right people — and showing them that they are constantly at the back of your mind.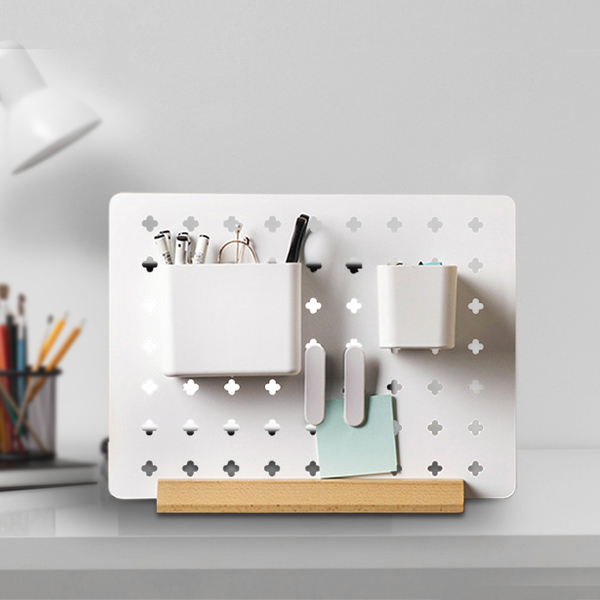 A perfect way to keep your stationery or smaller items organised in a neat and creative display. The combination of the pegboard materials gives a sophisticated feel, on top of practicality. Easy to assemble with no screws or drills required — this aesthetic portable desk organiser makes a great gift for your employees. (You want to tell your team to "work hard", but you also want them to know you care for them enough to keep their workstation prim and proper.)


No one likes a morning cuppa when it's gotten cold. (We all know that feeling when we take the next sip of a 'supposedly' hot beverage at our work station.) Enters this insulated, spill-proof, and durable mug to save the day (or morning, at least). Now you can savour your morning cup of Joe in this sexy and classy black mug that keeps your coffee hot, longer. An elegant and sophisticated corporate gift that shows appreciation for your clients or employees. What better way to stay home, stay warm with this reusable lightweight cup in hand.


A warm companion to your cup. No more drinking your favourite hot beverage cold — simply because you're busy working. This reliable mug warmer is a brilliant gift choice for those who work at their desk all day. Oh, did we also mention it is a smartphone charger? (Fret not even when you forget your phone charger on your way out!) A perfect way to give the gift of warmth to clients, customers or team members.


This sleek, easy-carry foldable keyboard offers noiseless, effortless typing just like a regular desktop. The sleeve's convenient fold design easily transforms into a tablet or handphone stand. Comes with a matching colour wireless mouse, that you can connect via Bluetooth. Made from lightweight, yet strong aluminium material, which provides a durable and sturdy exterior. A perfect gift for the ones who are always on the go, for travel or business trip!


Ergonomically designed with portability and practicality in mind. Eliminating formaldehyde and bad odour, it allows you to breathe in purified air anytime, anywhere — comfortably and safely — from room to car. Non-toxic, safe to use for pregnant women and babies. A thoughtful travel-friendly gift for your clients.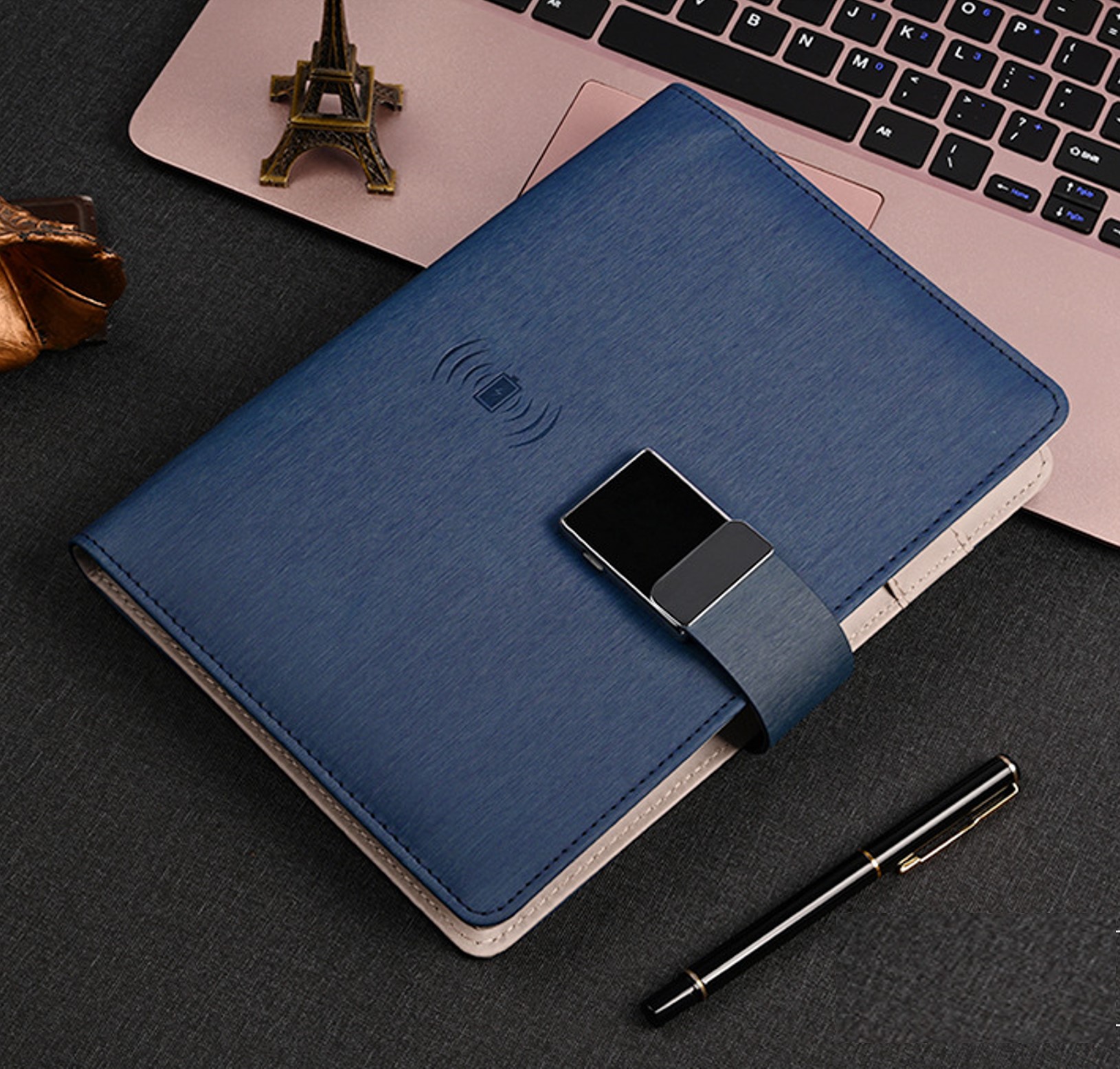 A sleek A5 executive notebook with integrated power bank and a digital lock to keep your notes highly secured — giving you a peace of mind, whenever you're on the go. Add a debossed message or a digitally printed logo for a personalised gift — to make a lasting impression among your clients or employees.
Simple, yet impactful 'wow' corporate gifting tips


Corporate gifting is more than just the action of giving gifts, itself. Apart from making it more meaningful, memorable — and impactful — it is about doing something more personal and less generic.
Plan ahead

– From the budget, to the type of gifts, to whom and when— to aligning the gifts with your company's values — plan, plan, plan.




Tell a narrative: "What does your gift represent?"

– Gifts that showcase your company's culture, a theme, etc.

– E.g. If your company has a reputation of being environmentally aware, pick eco-friendly and sustainable gifts.



Opt for personalised gifts

– What you wish to achieve when your recipients receive your gift is them going 'wow'. The last thing you want from them is having them feel that you have not put enough thought (effort) into the gifting process.
– Give a gift that says 'Thank You' in a upclose-n-personal way.




Choose practicality over "something nice to have"

– Companies tend to go for the 'expected', and 'less exciting' routines like gifting pens or flashy gift cards. They are all nice, don't get us wrong — though, we feel that a customised gift experience that is practical, and not easily disposable, would be more deeply appreciated (and remembered.)



Surprise!

– Give recipients gifts when they least expect it, instead at predictable times of the year like certain festivities. Why not make their day with a witty surprise on special occasions, like their birthdays, work anniversaries, or after a completion of an important project, etc.


A multi-functional PU leather desktop mat set that comes with a laptop stand, phone stand, mouse pad and memo clip function. Keep your workstation looking sleek, professional and neat. Great as a VIP or executive gift for your employees or trade partners.


An elegant and sophisticated travel companion, especially for those who are always on the go. Convenient, easy carry and simply smart — this wireless journal is equipped with various charging cables, allowing you to charge your electronic gadgets, anytime and anywhere. A USB is fitted into the closure flap, so whether you're taking handwritten notes or using their laptop, this gift has them covered. Add a debossed message or a digitally printed logo for a personalised gift — to make a lasting impression.


Functionally stylish, this sleek on-the-go organiser offers you a sophisticated look-n-feel. Designed with various compartments to keep your important documents and work necessities neatly organised — it also has an embedded calculator. Whether it's delivering a presentation or pitching an idea, this versatile portfolio binder makes a good 'thank you' gift for your clients or even employees.


A zippered notebook with various compartments to keep your important documents and work necessities organised, while looking sleek. Add a debossed or a digitally printed logo on the leather cover for a personalised touch — to stay top of mind among your clients or employees. A practical gift to welcome the brand new year, keeping you on track with a compact companion that stores your 'to-do' tasks.


Keep your desk neat (and mess at bay) by having your stationery and work gadgets — stationary — on the magnetic modular organising board. Effortless, hassle-free; just snap it on! Light as paper, but surely a brilliant gift that's full of thoughtful touch.


A sophisticated organiser that blends technology with functionality, for your day-to-day business needs. Lightweight and portable, its design incorporates a transformable tablet or phone stand, a built-in power bank among other various compartments — all you need for that board meeting. Without a doubt, a perfect gift choice to 'wow' your clients or employees.
Closing Thoughts

Regardless of the type of corporate gift ideas you choose, it is best to keep it useful, purposeful, and impactful — all while being fun. Never lose sight of the overall purpose of your corporate swag (gift): to leave a memorable impression on your target recipients. Put a little thought and effort into the swag items, you will be surprised by the delight on your client's face when they receive it. If you are looking for more gift ideas and inspirations to 'wow' your clients this year, speak to us and our team is ready to spruce up your gifting experience.
More ideas and inspirations for your perfect year-end "Thank You" gifts:
Top 8 Bluetooth Speakers for Corporate Tech Gifts

10 Luxury Corporate Gift Ideas to Impress Customers & VIPs — "So Black" Collection
Take Corporate Gifting Up A Higher Level With Unique Leather Gifts!
Best Corporate Gift Ideas for Different Industry Themes in 2022