Every organisation is built around teams. The better the health of your teams, the better the health of your company. Simple, yes? And teams are made up of people. A team that works well together is more productive and effective — needless to say, happier and more f.u.n. to work with.

As the saying goes, "all work and no play, makes Jack a dull boy" — and it does make Jill a dull girl too; when Jack and Jill aren't allowed to have a little fun. And our colleagues in the Malaysia office are surely not letting that happen.

With the hybrid (remote) work model and arrangement (in the wake of the pandemic), more or less, the social interactions among colleagues are impacted. As our workplace policies evolve to accommodate the health standards during this time — some of us may be working remotely, while some are constantly on-the-go, whereas some are not available in the office most of the time. Hence, the first team building event for the year 2022 is all about creating an opportunity for everyone to be able to "re-connect and get to know one another. Let us all get away from our usual (office) cubicles and have some fun," said George Lam, General Manager of DTC World Malaysia.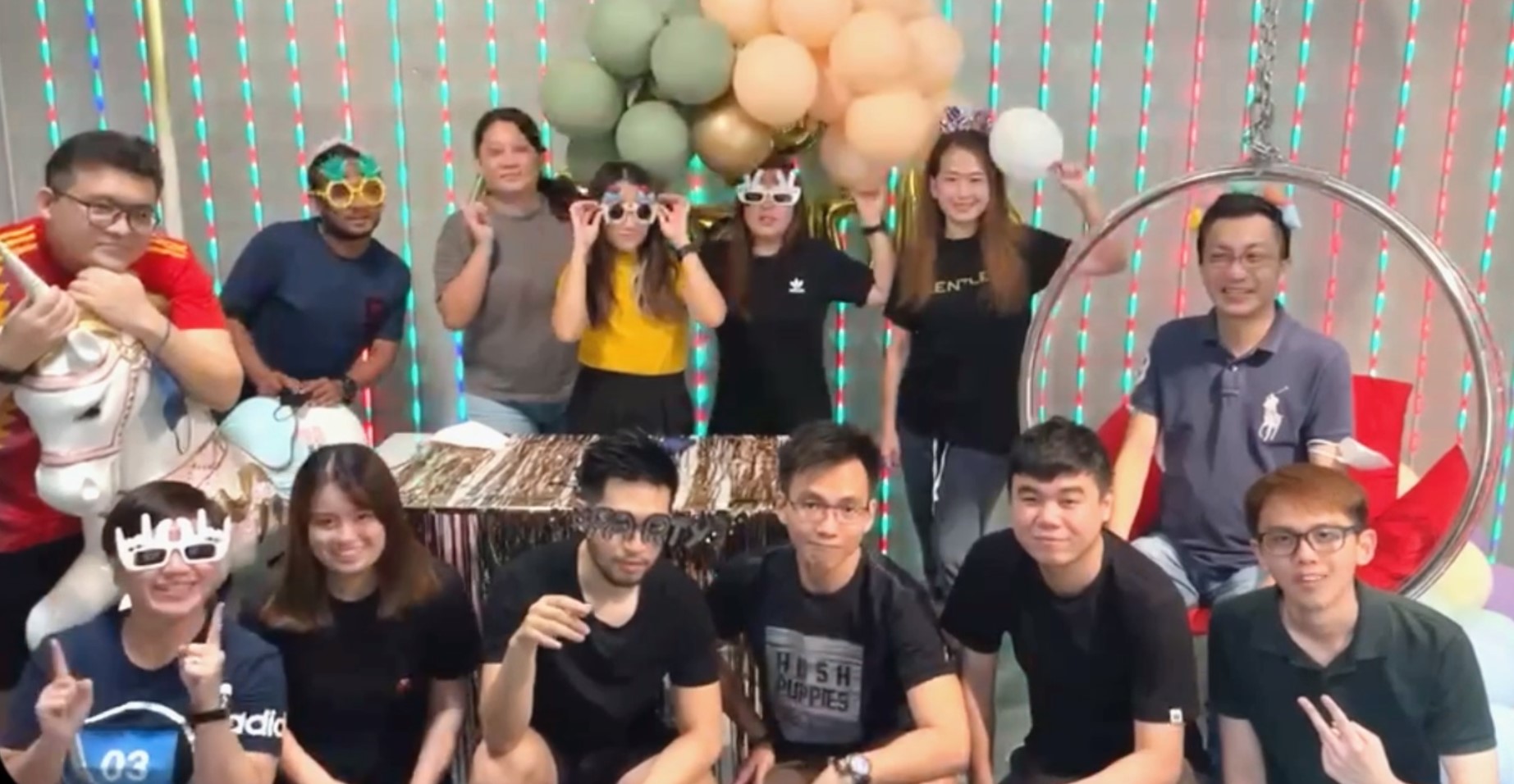 "Say cheese!"
Bring it on!

Rocking the Party Room (Atria Mall), on 15th July 2022, all 13 staff members went all out with the dynamic games and activities lined up for the day. Split into two teams, it was a battle between Team A and Team B — competing against each other to snag the ultimate winner title. From fast-paced activities that truly put the team members' stamina and strength to test, to brain stimulation activities that got everyone scratching their heads — and not to mention, (back-to-back) karaoke sessions that have everyone's vocal chords warmed up, throughout the three-hour event!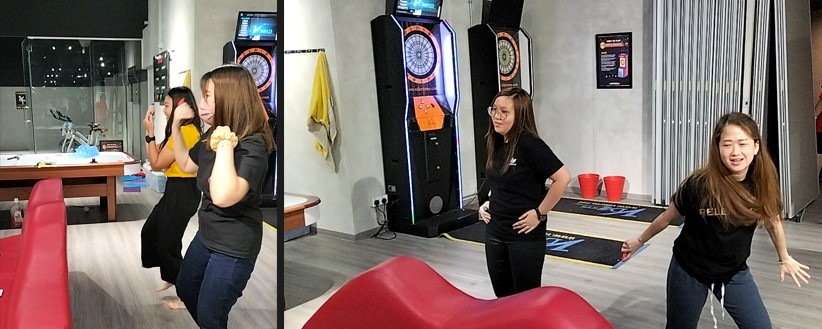 "So you think you can dance?" — we'd say our DTC ladies surely do!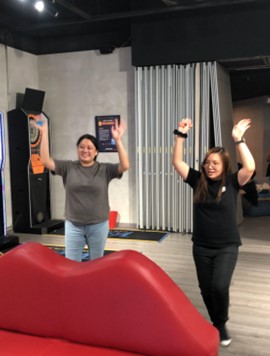 (The cheers were so loud they could match that at a real Olympics-curling event, mind you.)

By the end of the first activity, members from both teams were all geared up to cheer (at the top of their lungs) for their "fellow comrades at battle". When asked about their fondest memories of the event, Jing Ying (Sales Coordinator) shared the favourite moment she enjoyed the most. "It will have to be the ala 'Tour de France'-bike workout! The adrenaline rush as we witnessed everyone keep cheering for our members, who rode as fast as they could to beat the opponents, is remarkable. Similarly, in the office environment, I supposed this is what good team spirit is all about — we motivate and learn from one another. At the end of the day, it's about delivering the best work. Always keep a 'win-win' frame of mind," she expressed further.

One of our newly on-board members of the DTC family, Catherine (Logistics) had a fun time, recalling some of the funniest moments. "I couldn't stop laughing during the ping-pong ball blow-out match!" Expressing how such activities could further strengthen the bond among colleagues at work, Catherine is already looking forward to more exciting team get-together outings next. And if you think the stationary bike challenge would scare our 'all-things-Excel-seriousness' Alex (Accounts) — you're wrong! Paired up with Senson (Sales) to go 'head-to-head' with Syaf (Designer) and Yew Seng (Sales Coordinator) — these fellas meant business when they got onto the bikes.

"
Bring it on!
"
— the fellas really put the hammer down.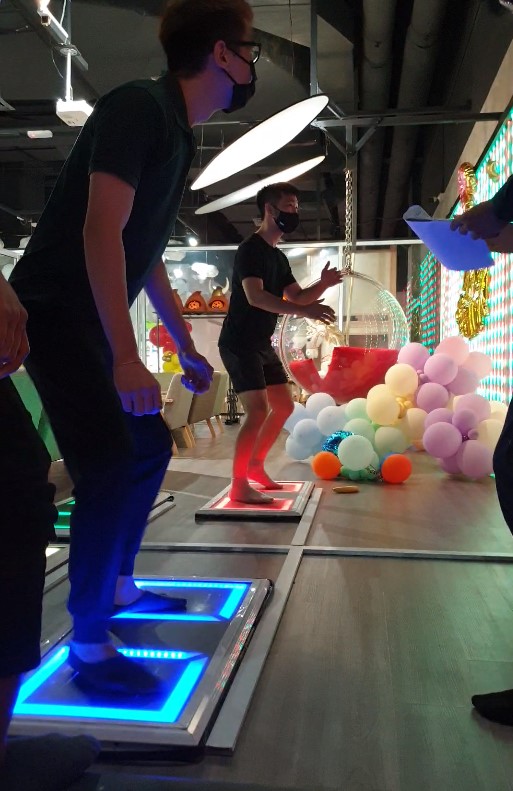 Coordinating the event from as early as a month before, Angeline (Administrative) has only one word to describe her team members: "Awesome!" She added, "I believe all of us got to know each other a little bit more (and better), from a different point of view. It's fun to see everyone let their hair down; just dance and cheer freely." Through this event, George was amazed to see the type of teamwork and unity he has never witnessed before. "Not only that, but we also discovered many hidden talents; for instance, crooners and groovers." Certainly one of our crooners for the day, our Designers-duo, Jacqueline and Gabriel belted out several tunes — keeping the encores coming!

"There's always a more laidback readiness to interact when it's outside of an office environment. And when there are competitive activities involved, like the floor curling game, it creates a healthy competition among team members — in a way, pushes us to strive for more," Jacqueline shared.
What's next
The participation and involvement of every team member were very positive. As our maiden team building activity for the year, this event has been a successful one. One who makes sure the ambience in the office constantly be as harmonious as it gets, George opined that "communication is key. We all have our strengths and weaknesses. By knowing how to leverage the strengths and complement the weaker elements, we can make a strong team, together. Nonetheless, the greatest roadblock is the unwillingness to take that first step to participate (and contribute)."
When asked about future plans for similar team building efforts, George echoed that there are indeed plans already. "It will be a secret for now; but, surely, we will keep up the momentum by making it a half-yearly or annual event. Come to think of it, I actually feel paintball battle may sound like a fantastic idea to boost morale and relieve stress. Right?", quipped George.
Guess we will find out when the day comes.
One final pose for the camera, folks
— "Cheers!"
More behind-the-scenes videos: