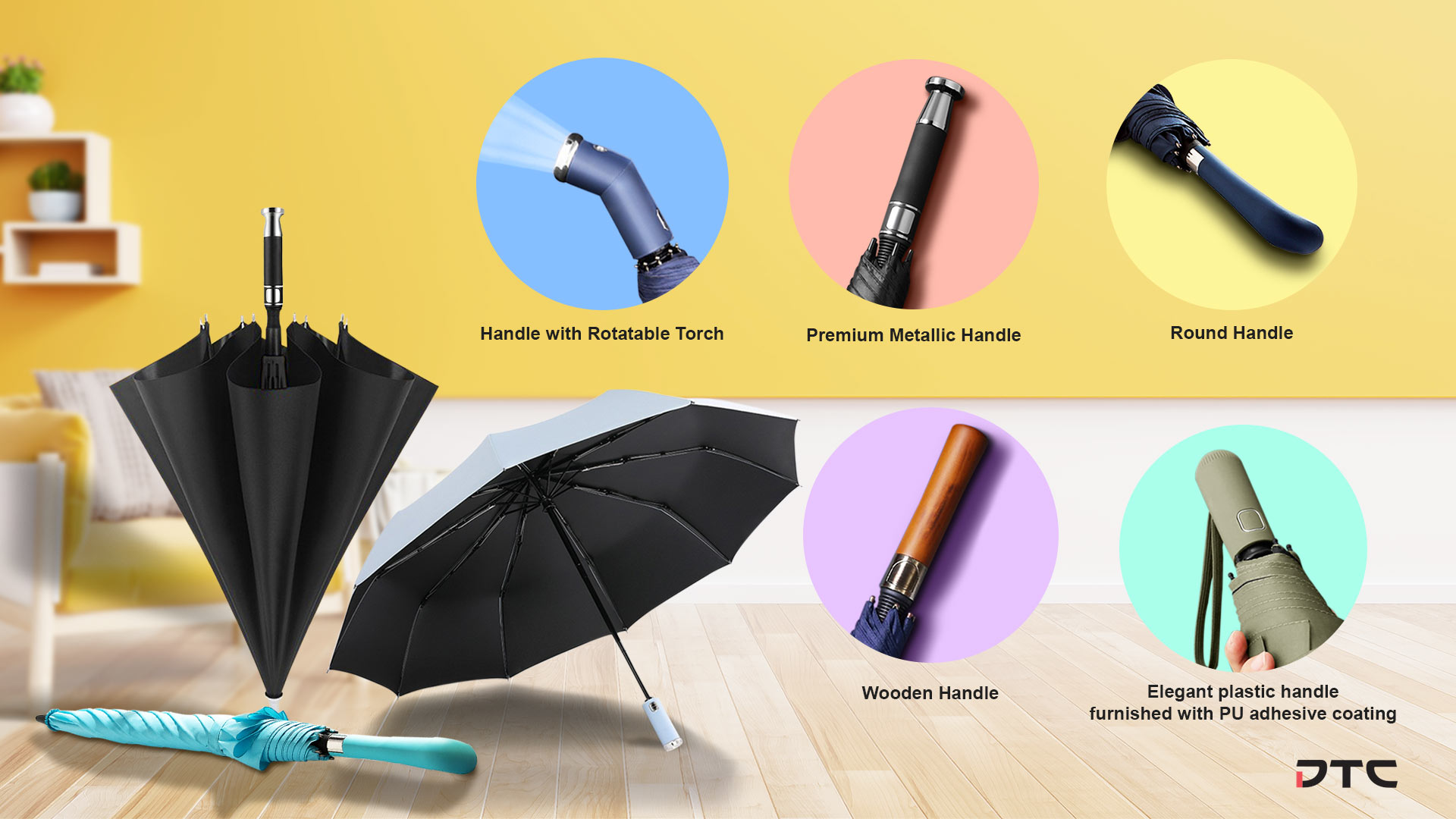 Have you caught yourself checking out the fabric material of an umbrella which you've received, maybe as a gift? Or, perhaps you are examining the frame's sturdiness — while the 'thoughts' of incorporating other distinctive and creative ideas on that umbrella are bobbing around in your head.
Regardless of the purposes, promotional campaigns or events, the last thing you want is to offer promotional or gifting items that your audience won't find useful. Because, this means that your brand will not have the visibility you have hoped for.
An umbrella is a brilliant promotional item due to its large surface area that allows for different creative possibilities — according to your preferences and specifications. Add some personalised logo, prints, or even messages to your umbrellas, and you'll transform them from some 'regular' umbrellas to 'walking billboards'. Not only that, they are a low-cost alternative to get your brand out into the public eye. By only producing what you need, you can work to eliminate wastage while simultaneously reaching a larger audience through increased brand exposure.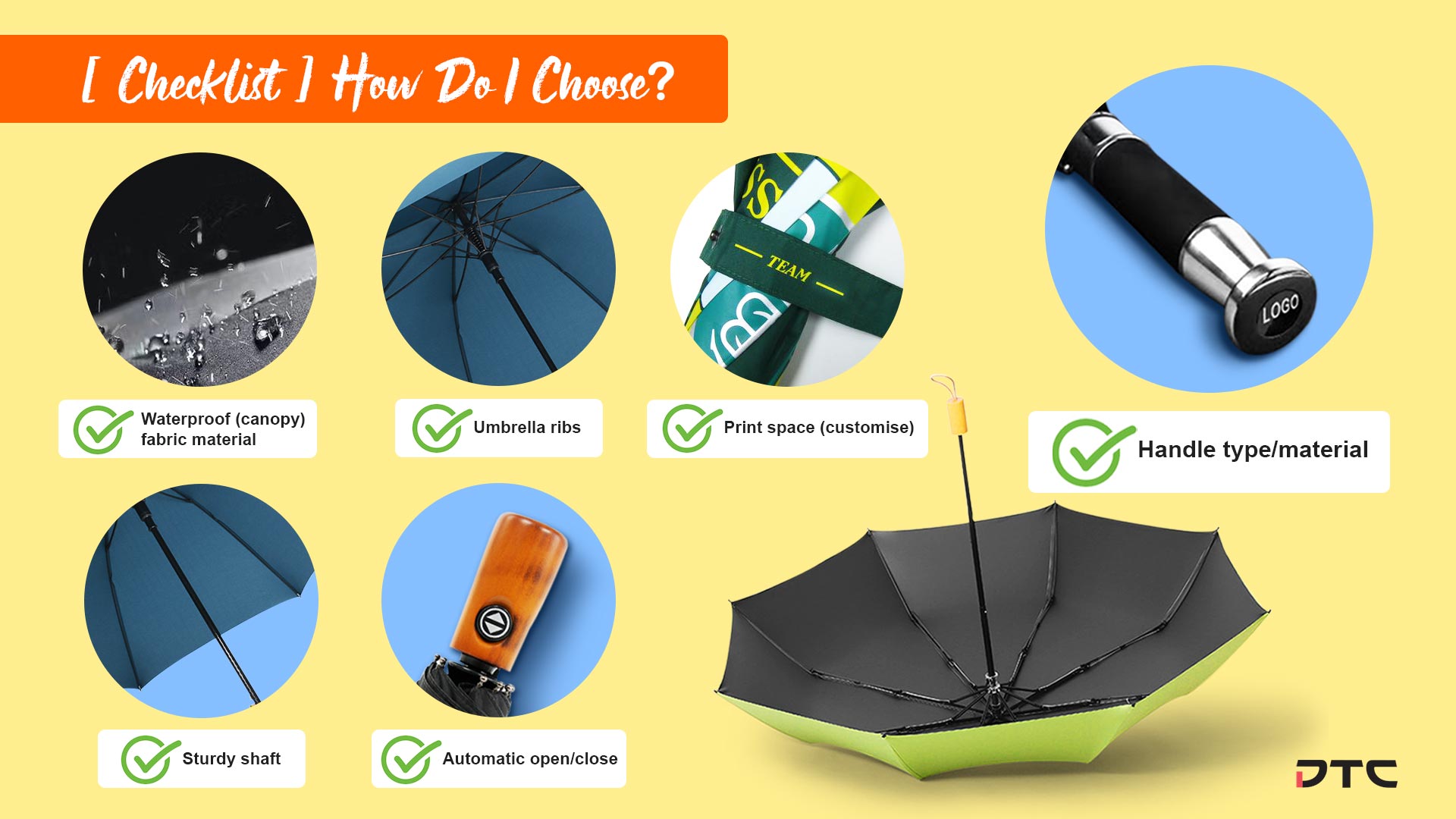 Making the most of unique promotional umbrellas
Many of you may be thinking: "An umbrella is an umbrella. How much more 'different' can it get?" If it's not the size of the canopy, it's the fabric. It could be about the length, or whether it's a straight or foldable type that you can opt for. Fundamentally, it boils down to "how else can I make my promotional umbrella unique, eye-catching — a little different, but still, looking distinctively exclusive?"
From large promotional golf umbrellas and medium-sized classic compact umbrellas to mini foldable ones, there is something for everyone and every business. When selecting the ideal umbrella design for your promotional campaigns; whether it's for your marketing giveaways, as a corporate gift or one of your event's complimentary swag — you would want to consider the following:
Checklist: How do I choose my promotional umbrella?


Canopy fabric material

– A quality umbrella will have a canopy (panel) made from nylon or pongee high-grade polyester
– Options include satin, plastic (PVC, EVA), UV

– Waterproof, quick-dry, UV protection capabilities

– Easy folding

– Durability




Handle type / material


– Most common ones include plastic, metal with a rubber covering or soft-touch coating, EVA, acrylic, or bamboo and wood

– Customise the handle of the umbrella with a premium,

full-colour doming option


– Laser engraving (logo printing) on the handle/hook

– Touch and feel, one that gives a firm grip



Shaft (pole)

– Modern umbrella is now made of either fibreglass, wood, steel or

aluminium

– Is it able to hold its shape and won't expand or contract with the cold or

heat with ease?

– Sturdiness
– Durability




Ribs


– What gives the canopy its structure and shape
– The ideal material is flexible fibreglass that will bend with your umbrella,

but won't snap




Print space (customisation purposes)


– Printing on individual panel, sleeve (case), closing band (tie wrap)


– Other potential parts of the umbrella, like, handle




Tips


– The ends of the ribs that extend past the edge of the canopy

– Can be left bare or covered with small plastic or wooden caps

(either pushed on then screwed on, glued or sewn into the end of the ribs through small holes at the end caps)
Hook them in: How to get creative with the handle of a promotional umbrella
In this week's blog, we will share with you how you can hook your customers in with unique designs for your promotional umbrellas: by exploring (and getting creative) with some of the different types of handles.

1. Premium Metallic Handle


An elegant and classy choice of handle that exudes a prestige vibe, thanks to the shiny lustrous metal. (Some modern umbrellas have metallic handles with a beautiful grey tone.) The sleek metallic straight handle is also ergonomically designed for better grip and handling convenience. The sturdiness and durability of a solid handle like this one will not be a thing to worry about.
Take a look at the all-black long Elite Umbrella shown below. Despite a minimal customisation on its all-black canopy, this 27-inch umbrella's asymmetrical shape is further accentuated through the shiny metallic handle. Less-is-more, but, attention-grabbing, nonetheless. A long-lasting and quality promotional umbrella for your marketing also reflects brand longevity.
Elite (Long) Umbrella with Premium Metallic Handle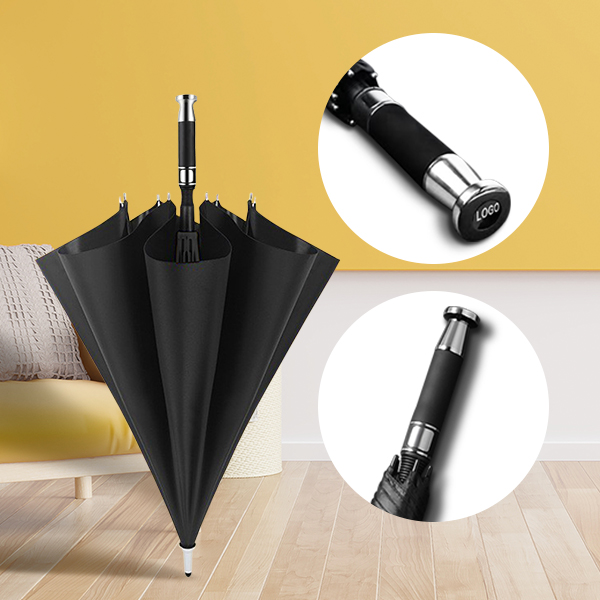 2. Handle with Rotatable Torch


An innovative and thoughtful element, we'd say. This creative handle incorporates a rotatable LED flashlight for some 'flashy' convenience, especially when we are out at night. Its rubberised texture on the handle is designed for non-slip, comfortable one-hand holding; while the overall slim (but sturdy) yet, ergonomic design makes the use of umbrellas more effective and convenient.
For instance, this Windproof Automatic 3-Fold Travel Umbrella is designed for smooth operation at the press of an open/close button switch. This automatic collapsible folding umbrella gives you instant access to shelter — rain or shine — the moment you need it. An ideal promotional gift item for your customers to remind them of your brand, particularly, when they need an easy-carry travel companion to protect them from the unpredictable weather.
Perfect as a gift for any occasion, you can add a personalised touch featuring your company logo — on this umbrella that comes in a wonderful array of colours, too.
Windproof Automatic 3-Fold Travel Umbrella with Rotatable Torch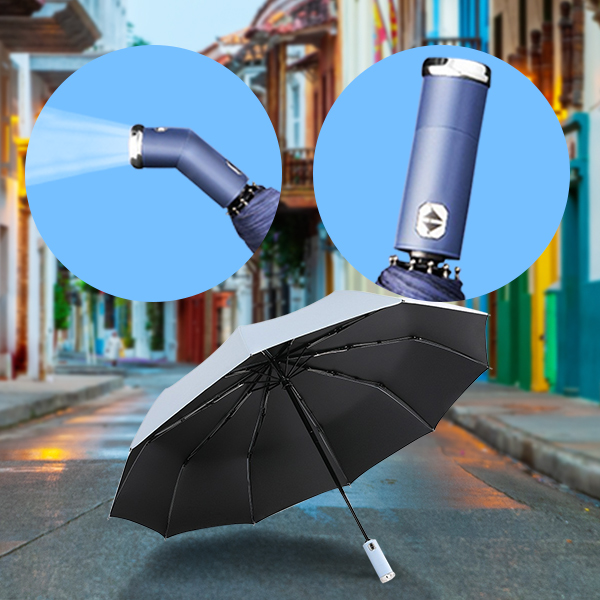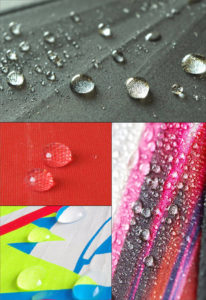 Do you know: The linear density of fibre is commonly measured in units of denier or tex. Denier indicates fibre thickness and also weight in grams.
1 Denier = 1 gram per 9000 metres
Similarly, in relevance to the fabric material used for an umbrella's canopy, Tex is an alternative and a new measurement unit which tells you how many grams a 1000-metre long fibre weighs. (E.g. 190T polyester pongee fabric).

1 Tex = 1 gram per 1000 metres
If you have more questions about the product material or quality pertaining to a certain promotional gift item you have your eyes on, speak to us! Our product specialists would be more than happy to share with you further insights into the type of promotional gift item best-suited to your marketing purposes.

(Image source: Huifeng Umbrella Co., Ltd)

3. Round Handle


A little curved design towards the end of the handle, and you get an entirely different vibe of the overall look-and-feel of this windproof classic umbrella. Ergonomically designed, with a firm and comfortable grip control in mind, this curved handle is furnished with PU adhesive coating.
The sturdy wind-resistant frame of this portable 25-inch travel umbrella is coupled with quick-dry fabric material (190T pongee). Regardless of your marketing campaigns or promotional events, there is a wide range of personalisation options available, too. Your logo can be printed on the umbrella panels. If you're looking for a more detailed form of advertising, you can opt for printing on the closing strap or laser engraving in the handle of the umbrella.
25-inch Long Windproof Umbrella with Round Handle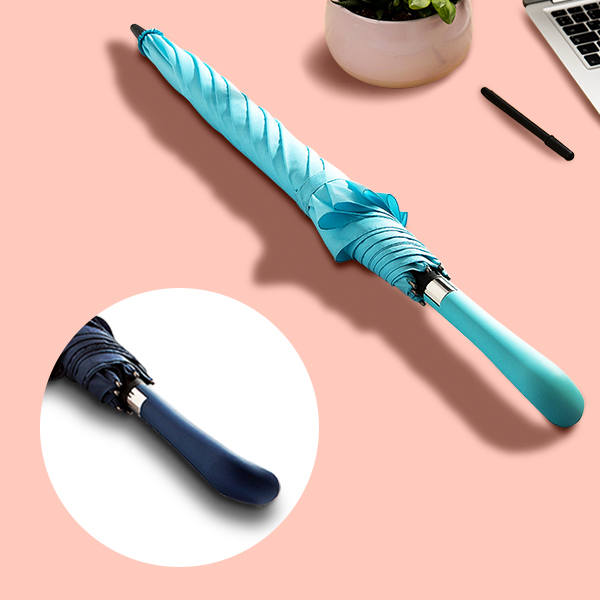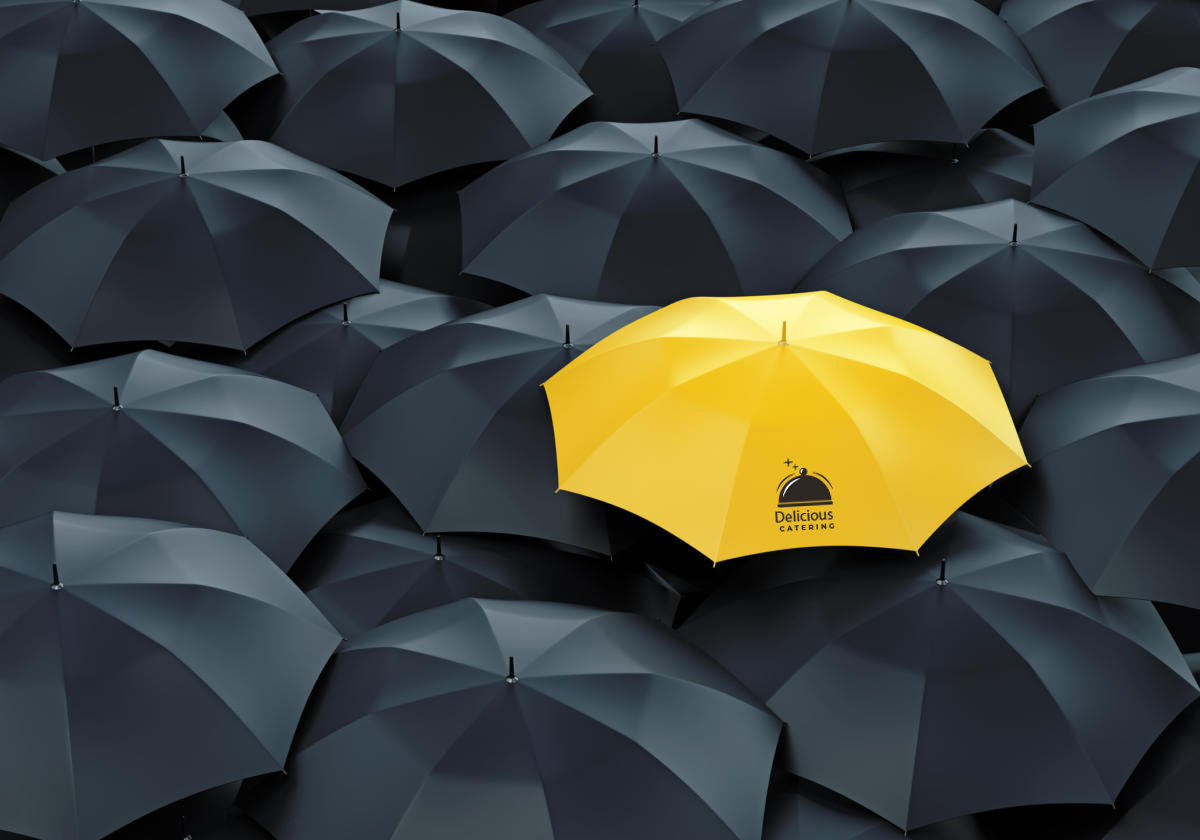 Want to add more creative twists to your promotional umbrellas for your next gifting campaign — while making sure that the design and concept best represents your brand image? "Say GoodBye to Boring Umbrellas" as you fuel your marketing inspirations when selecting the ultimate promotional "walking billboard" to protect your brand from heavy rains and gusty winds!
4. Elegant plastic handle furnished with PU adhesive coating


One of the commonly chosen materials for designing umbrella handles is plastic and acrylic. The umbrellas with plastic handles are relatively affordable without any compromise over usability and utility. At the same time, the high-quality plastic material also does not degrade easily. You may have seen some promotional umbrellas featuring an acrylic transparent handle.
Take this compact 23-inch handy, foldable umbrella, for instance. An elegant umbrella design complemented by a soft hued pastel shade. On top of its automatic open/close feature, the plastic handle is furnished with PU adhesive coating — for better grip and long-term durability. If you wish to add some personalised touches to your promotional umbrella, you could always explore the protective sleeve.
Elegant Automatic 3-Fold Travel Umbrella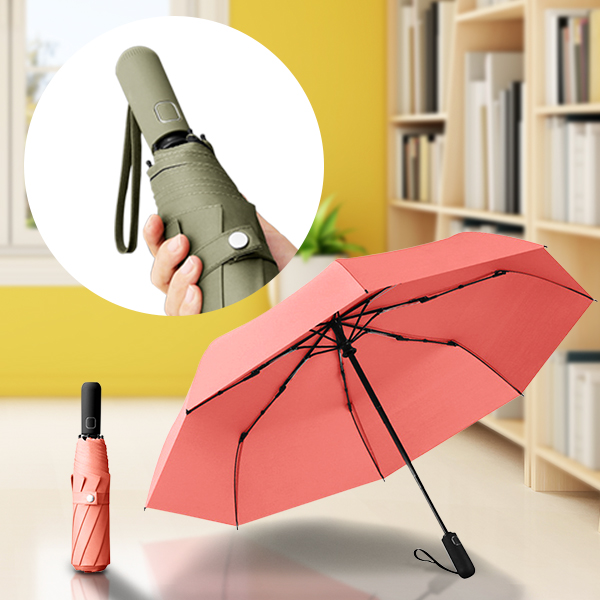 Since the 19th century, wooden handles have gained high popularity in the world of umbrellas. Often viewed as a symbol of status and class, the wooden handles had a handcrafted curved design (made of ebony and mahogany wood.) A classic long wooden umbrella indirectly reflects the user' dignity and prestige.
Plywood is a lightweight and durable material that can be embossed with your company brand logo. With high elegance, these umbrellas will surely draw the attention of your potential customers. If you would like to echo a greener brand image among your customers, selecting a wooden handle for your promotional umbrellas could further accentuate your company's green approach towards sustainability.
Take this sturdy 27-inch umbrella vintage-style golf umbrella for example, a large canopy that is furnished with classy details, like a plain wooden handle and a matching string. A somewhat more subtle way of personalisation can also be achieved by printing on the closing strap or the wooden handle — to add some exclusivity to this promotional gift.
Vintage-Style Golf Umbrella with Wooden Handle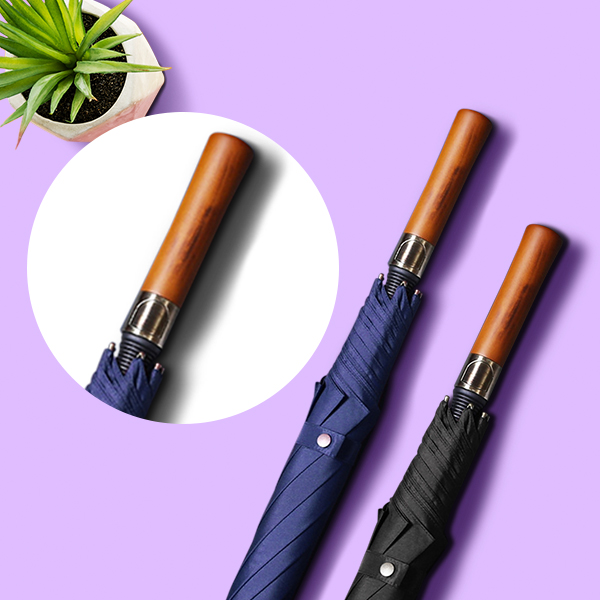 The list doesn't stop here. We have selected several more interesting designs for promotional umbrellas — from the various lengths and shapes all the way to the types of handles — to complement your marketing needs. Check out our video below.
(Make sure to subscribe to our YouTube channel if you don't wish to miss out on the latest unique and refreshing promotional gift ideas!)


Closing Thoughts

A well selected promotional umbrella could effectively remind your customers that you're stable, consistent and trusty when in stormy weather, metaphorically speaking. You can always pick a storm-proof and wind-proof umbrella to project the right brand values for your business — because a really sturdy, good quality promotional gift like this reminds your customers that you're always there when you need them.


The more personalised the gift is, the more exclusive it gets, the stronger the brand loyalty. In DTC World, we are dedicated to thinking in the best interest of your brand and business — that's why we made it our mission to find the best suited gift ideas to complement your marketing efforts.

If you'd love to explore any one of the promotional umbrella gift ideas we have shared in this article, just put our team to work — and our product and gift experts are more than happy to fill you in. Let us walk you through on how you can customise fresh-looking designs and unique concepts — for your ultimate appreciation gesture to reward your loyal patrons.

More promotional gift ideas for you to complement your impactful marketing strategy:
Say GoodBye to Boring Umbrellas

Gift Ideas That Will Break Through the Noise

5 Tips To Turn Your Brands Into Creative Tote Bags